Just about every banker who has had to make a hire in the past year knows how daunting the task has been. From the top of the organizational chart to the bottom, finding a skilled worker to fill an open position is hard — and it might get worse as a multitude of factors converge to create what some bankers are calling a "talent crisis."
People with banking-specific skills who are actively looking for work are scant. Big banks' training programs that previously spun off experienced bankers to community banks have dwindled. Banks' staffing requirements are evolving, requiring skills that are already highly sought after by other industries. The result is the talent pipeline has slowed to a trickle.
The underlying issue is the unemployment rate — 3.7 percent in July, just off of a 50-year low, that has the available talent pool notably shallow. Factor in an unemployment rate for people with a bachelor's degree or higher at 2.2 percent, and that pool practically evaporates.
"I talk to a lot of state association partners, and it's now becoming a topic in the boardrooms at banks as well as at state associations about what are they going to do. We're getting closer and closer in terms of a talent crisis for banks," said Brian Hoffman, co-creator of the BankTalentHQ job posting website, and president at Illinois Bankers Business Services.  "How can we build the next talent pool?"
It would almost be easier to list jobs that aren't hard to fill rather than those that are: Credit analysts, lenders, commercial bankers with broad portfolios or those with niche backgrounds, compliance officers, and bankers with C-suite-level experience — all are in high demand, and that's not even including the industry's growing technology needs.
Hoffman knew of a bank that was looking for a commercial lender, ideally in agriculture. "They couldn't find anybody for two or three years," he said. "They hired a retired car dealer and were teaching him lending just because the person knew all the people in town. In some instances, banks have had to get creative in how they fill those positions."
Hoffman said many banks are wrestling with similar situations and having to be flexible when the ideal candidate isn't out there. "It could be hit or miss as far as the quality of people that apply for the job," he added. "In a lot of cases, the banks are looking for specific skills to fill that position. Sometimes that can be hard, especially as they get higher up in the bank, and also find people who meet all of those criteria."
The BankTalentHQ website launched in 2017, but Hoffman began building it four years ago when it first started becoming apparent there was a looming labor shortage. A 450 percent increase since the first year in the number of visits to the website and the number of registered job seekers illustrates how acute the shortage is.
And demand isn't limited to higher-end jobs. Needs extend throughout banks' organizational charts.
"It's hard to find some people in lower positions, but they are still key positions that banks need to fill," added Hoffman.
Stiff competition
Not only are banks vying against their banking and credit union competitors for top-tier employees, but they're increasingly going head to head against other industries as well when it comes to certain skill sets. Add in fintechs and startups, and the competition stiffens to the point that it is now a candidates' market.
"There are so many different industries out there that look exciting," said Hoffman, citing companies such as Facebook or Google. "The question is, have banks evolved enough to keep it exciting?"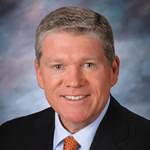 "There's no doubt that there's a war on talent out there," said Bill Callahan, president and CEO of Arizona Bank & Trust in the booming Phoenix economy. Like most bankers, he's going head to head against the nation's largest banks in addition to his community and regional competitors.
"One of the ways we compete for talent here is as we speak with top producers, we can convey to them that they can continue to do the kinds of things they might be doing today at some of those larger institutions and yet be part of the decision-making process here at a smaller, boutique kind of a team," Callahan said. "That's appealing to those folks."
In recent months, he's hired veteran bankers who have worked at some of his larger competitors. At the same time, his bank has been beefing up its program to bring along younger employees.
"One thing about the job of a commercial banker is that it takes a long time to get the necessary experience," Callahan said. "It takes about 10 years to become fully competent in the business banking and commercial banking space. You have to go through a lot of experiences, ups and downs, cycles to gain the kind of experience necessary to be viewed as a partner in your clients' eyes.
"We're trying to grow young people into those positions," Callahan added. "We as leaders have to understand that they might not be as patient as my generation was moving up the ladder, and react to that in new and different ways."
Hiring managers within the bank maintain lists of their own 10 candidates in the Phoenix area, which includes people who aren't necessarily looking to switch jobs.
Chris Wrecza, an executive bank recruiter and founder of Minneapolis-based ExecuSearch Solutions, said banks need to have a continual recruiting process to "build their bench" with potential hires.
"They're talking to people even if they don't have an immediate need," Wrecza said, "so when something does pop up, they've got someone they can already call on, a relationship that's already started."
No particular state or market has really been spared from the talent crunch. Isolated pockets of softness in the labor market and fortunate timing were two factors favoring hiring managers.
"It depends on where your footprint is and where your talent is going to come from," said Michelle Toll, president and CEO of The State Bank Group in Wonder Lake, Ill.
Rural banks might be at a disadvantage, but an area's attractiveness may offset that. Meanwhile, with most cities faring well in this economic cycle, urban banks are facing the headwinds of low unemployment rates and strong demand for solid hires. The level of M&A activity in individual markets also plays a role.
"It can be a completely different spectrum of experiences just based on exactly where your footprint is," Toll said.
Going digital
As staffing composition at banks has changed, so has the demand for certain skills to fill those positions. That trend is unlikely to ebb.
"Our industry is facing the dilemma of identifying the skills today to compete in the future," said Ann Brown, vice president at German American Bank in Jasper, Ind. As technology disrupts banking and other industries, banks need to broaden their hiring strategies.
"Traditionally, banks have looked at business majors, finance majors, but there are so many parts of banking," Brown said. Her bank's back office operations have grown with the addition of services such as virtual ATMs, and the personnel needed to maintain and staff them.
More community banks that had previously outsourced IT functions are bringing them in house. That's the case for Randy Dorn, chief management officer of First National Bank of Henning, Minn.
"We hired an information technology director, the first IT individual we hired who doesn't have any banking experience," Dorn said. "So that's a big change for our bank. Now we have to teach him the banking side of the business.
"If we didn't know this person personally and have a comfort level with their background and their history, that would have been a very tough decision to make to pay what we're paying for that position," Dorn added.
The demand for tech skills is only going to grow, said Toll, of The State Bank Group.
"We have a digital-first strategy with everything that we're talking about," Toll said. "From our deposit operations meetings all the way up to our board level — that is woven into every planning conversation we have. Everything we're executing today is built off of the digital mission."
She sees consumers' migration toward digital and mobile banking in her bank's data, with the bank adjusting its staffing in response.
"Our bank organizational chart has shifted, if ever so slightly, every half year to a year to two," Toll added. "And then I look back at our organizational chart and our strategic plan over the last five years and I see that model tip quite heavily when I can truly measure how that chart has shifted."
To recruit tech staff, Toll said banks can do a better job at shifting their narrative from a traditional and perhaps stodgy industry into one that's edgy and fun. That ranges from the bank's culture to its office décor.
"We're acknowledging that we're up against cutting-edge industries with that shiny new next thing, because those things create a lot of excitement," Toll said. "But there is so much value in working in community banks."
Traditional pipelines have slowed
One casualty of the Great Recession that continues to ripple through the industry's workforce has been larger banks cutting back on internal training programs. A percentage of program graduates historically would leave for community banks, taking that knowledge with them.
"That's how a lot of bankers got trained," said Hoffman. He's beginning to see more colleges and universities stepping in to fill that gap, oftentimes collaborating with state banking associations on banking-specific programs.
The Illinois Bankers Association has partnered with Marquette University in Milwaukee on a community banking program, while the Indiana Bankers Association is working with Purdue University on a similar effort. Other universities offer banking programs, as well.
"But it's going to take five to 10 years to build enough candidates to come through those programs to start filling the positions that we need now," Hoffman said.
Despite ongoing mergers and acquisitions within the industry, a surplus of talent has yet to hit the market in most places around the country. When a credit analyst or mortgage lender with a solid book of business becomes available, they're likely to be scooped up even before they have a chance to update their resume.
"When the right candidate comes along, they're creating a position," said Wrecza, the recruiter. "They know they might not even have a need right now, but six months from now they will."
Of course, one way to avoid the labor market fray is to keep employees around.
"The best way to retain top talent is to give that person the kind of empowerment where they feel 'I own this function,' whatever it is," said Peter Lamb, a veteran bank recruiter whose area of focus includes the Upper Midwest and Great Lakes region.
That feeds into corporate culture, which younger workers place a growing premium on.
"What motivates people to make the move to a new employer, and to get them to even listen to me, has changed markedly in the last decade or so," Lamb said. "They are keenly interested in corporate culture."
While community banks might lack the HR firepower and hiring budgets of some of their larger counterparts, that doesn't necessarily place them at a disadvantage in the battle for skilled labor.
Dorn and others told of recent hires who came from larger institutions.
"The strong reputation of community banks really helped us be attractive to those individuals," Dorn said. "To be in an environment where they're valued, where they know the ownership, who they're working for, know their customers … That reputation goes a long way for community banks.
"People want that," he added. "They want to be able to see what they are doing is changing people's lives."