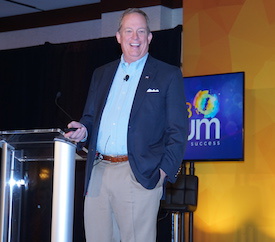 The rules that govern the use and cost of a bank's debit card program are written by a small group of companies and these rules set the terms for cardholder access as well as the costs borne by a financial institution. In its effort to support its customers and re-balance the power wielded by the largest players in the arena, Johnston, Iowa-based Shazam made a strategic decision to engage in advocacy on this and other issues.
"Everything we do has to be run through the filter of 'does it make the institutions that we serve stronger?'" explained Steve Heston, Shazam's executive vice president and chief sales and marketing officer.
Heston's comments opened the second day of the Shazam Forum, held in Des Moines, Iowa, April 10-12. This year's Shazam Forum had approximately 370 bank and credit union representatives in attendance.
Advocacy made on behalf of its customers has taken Shazam representatives to Capitol Hill and to statehouses in Iowa, Minnesota, Wisconsin, Georgia, Arkansas and Alabama, Heston said. Shazam has advocated for standards around payments and preserving the second network requirement that allows a bank's debit program to stay viable.
It also worked to pass a law in Iowa to simplify prosecution of criminals who place skimming devices on fuel pumps and ATMs and increase the penalty for those who have skimming devices in their possession.
Every one of Shazam's new initiatives as well as its remaking of longtime products must pass such a "litmus test," Heston said.
"For many of you, your debit program will be somewhere between No. 4 and No. 11 in terms of revenue sources," he said. "We believe it's extremely important to protect that. One of the ways we can do that is by being politically active on your behalf."
Roughly 61 percent of debit transactions are signature-based, Heston said, promising that Shazam was about to move "into the realm of being able to compete with, or being able to participate in, transactions that aren't traditional pin-based transactions." Examples listed were online purchases, and debit transactions for rental cars, hotels and restaurants. "You'll be able to take more advantage of your customers using their debit card for those types of transactions, instead of them being automatically routed to one of the major brand networks."
Heston also said the past year had been transformational in its revamp of Cardinal Core, its core processing software. The company assembled a 25-person team, dubbed Tiger Team, to focus on the needs of its core platform, Heston said; he called the team's progress "fantastic."
A new release that addressed more than 200 aspects of the software went to customers for rigorous testing and only one defect was found, Heston said. "As the big three cores and the two right after them become more punitive and more hostage-taking in their approach to trying to get you to try to consolidate under one umbrella," he said, "we want to make sure you have choice and flexibility and options in the core space."
Heston also teased a new offering, introduced in January, that allows Shazam representatives to take the time-consuming charge-back/dispute resolution process back from banks. "It's been the fastest uptake process we've released in the past four years," Heston said. The department is fully functioning. "It's something you can take off your team's plate and have us do it on your behalf."
Heston also said shazam.net was undergoing a complete overhaul; he expected the new website to be finalized in about one month.
The Shazam Forum is a three-day seminar put on annually by the company's marketing department.