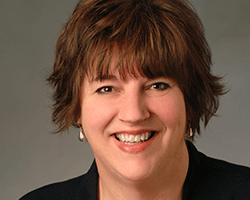 Lori Raabe has worn many hats in her three-plus decade banking career: Teller, personal banker, mortgage lender, business development officer, SBA lender, branch manager, taxidermist. Okay, that last role is figurative. 
One of Raabe's first commercial loan customers in the Coulee region of western Wisconsin (home to Holmen, Onalaska and LaCrosse) is a taxidermist. With him, and all of her other small-business clients, Raabe considers her role in unconventional terms: "I perceive myself as their unpaid coworker," she said. "I consider myself part of their team."
It's a perspective that distinguishes Raabe — one of six bankers recognized this month by BankBeat magazine as a 2019 Outstanding Woman in Banking, sponsored by SHAZAM — from her industry peers. 
Raabe is vice president, business and mortgage lender, at the $55 million, three-location Park Bank, based in Holmen; she's been on the job at Park Bank only two-and-a-half years, but she brings a lifetime of community connections and industry insight, along with an effusive attitude toward service to her role. "Lori has demonstrated a willingness to dive right in on anything," said Morgan Farmer, executive vice president. "She's particularly good-natured and empathetic."
Raabe's sweet spot is working with businesses with between one and 25 employees. They're often family-run operations with employees who are close-knit, she observed. She also appreciates how intertwined business and personal finances can be in a small business. "It's just very cool to be able to work with those people and have the opportunity to help them with their businesses."
Raabe started her banking career in 1988 at a branch of M&I Marshall and Ilsley in her hometown of Onalaska. She spent the next decade focused on consumer banking, and fully expected to be an "M&I lifer," she said. When BMO Harris bought M&I in 2011, Raabe had just started to shift into commercial lending, and had just begun to hit her stride. 
She committed herself to giving the multinational a chance. She gave it a chance-and-a-half, staying at the Chicago-based bank for four years. "Chicago and rural Wisconsin are really different marketplaces," Raabe said. "It was just very difficult for me to help the customers the way I wanted to help them."
Raabe parlayed her extensive banking experience into a position at a La Crosse-area community bank that competes with Park, where she was both branch manager and business development officer. There, Raabe was mentored on SBA lending. "It was my opportunity to jump in with both feet," she said. 
The fit wasn't quite right, however. "I felt like I had five or six really important skills and I was looking for the right position that would let me do all of the things I knew how to do, and not just two of the things that I knew how to do," Raabe said. 
"She's a unique talent," Farmer said, assessing the value Raabe's 30 years of experience, industry knowledge, and her ability to connect with people.
Raabe manages a loan portfolio in the $20 million range and believes she's been helped by having roots in the region. Success in commercial lending hinges on knowing a lot of people and developing a reputation as someone who helps people — she was right there to help her taxidermist when the Wisconsin DOT rolled its construction equipment over his septic tank. "When you can't wash all those animal skins because your septic system has been destroyed, you might need a line of credit," she said. "And when you work and live in the same place, that creates a different kind of loan."
Farmer noted how adept Raabe is at analyzing credits and working with customers, saying she has "excelled during the last 12 months as she took on existing loan relationships."
"Once I got over to Park, [SBA lending] was really the thing they focused on. It was an opportunity to take those basics and just run with it," Raabe said. 
Raabe has her finger on the pulse of the business beat in the region, which she said is growing, becoming more urbanized, has attracted a lot of new businesses, and has helped the bank grow its mortgage portfolio.
The 20 or so employees at Park Bank are close-knit, fulfill multiple functions at the bank, and take a collaborative approach to problem solving, Raabe said. "I think in a lot of ways we're like a family," she said. Everyone has fun; everyone helps out. And Raabe, who's clearly found her groove, sets the tone.
"She's that rare individual who raises everyone up to a higher level," Farmer said.
"I think all of us, because we have so many opportunities to learn and do different things, we really feel like we're part of something," Raabe said. "We're all invested in what the goals are, as far as trying to succeed as an organization."