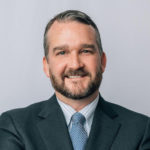 Preston Steele was elected chair of the Independent Bankers of South Dakota at their annual meeting in late July.
Steele is chairman of the $840 million American Bank & Trust, Huron, which has 13 locations in eastern South Dakota. He also serves as president of American Trust Insurance and is the third generation of the Steele family to be involved with the bank. Previously, he served as executive vice president of the bank. He has a bachelor's degree in accounting and business management from the University of South Dakota, Vermillion.
Other 2018-2019 ICBSD officers are:
Jaimey Schempp, Immediate Past Chairman, Vice President, Premier Bank

Hugh Bartles, Honorary Past Chairman, Reliabank Dakota, Watertown

Monte Troske, Vice Chairman, Farmers State Bank in Turton

Roger Weber, Secretary/Treasurer, Market President, CorTrust Bank of Sioux Falls
Other board directors for the 2018-2019 year are: Emily Hofer, chief financial officer, Merchants State Bank of Freeman; Dillon Kjerstad, loan officer, First National Bank of Phillip; Scott Campbell, president, First National Back of Frederick; Kelly Eisemann, vice president, First State Bank of Roscoe; Dean Schwartz, president, Campbell County Bank, Herreid; Barclay Smith, senior vice president, Rivers Edge Bank of Marion; Brian Gilbert, senior vice president, First National Bank in Sioux Falls, and Josh Hogue, vice president, Reliabank Dakota, Watertown.