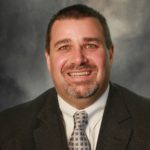 Kevin Driscoll is retiring as president of Bridge Community Bank in Mount Vernon, Iowa. He is replaced by Executive Vice President David Steen. Driscoll, who has been with the bank since 1997, will retire at the end of August. Steen, who joined the bank in 1999, works out of the bank's Solon office. 
Bridge Community announced a slate of other promotions this month. Paula Sears was promoted to executive vice president from vice president. She has been with the company 13 years and has a Bachelor of Science degree from University of Iowa, Iowa City.
Jill Cinkovich, formerly a customer service representative, was promoted to operations officer. Cinkovich has been with the bank for three years and works out of the Mechanicsville location.
A four-year Bridge Community veteran, Wittsle Paisley was named assistant vice president.
The $192 million Bridge Community Bank has two offices in Solon and Mechanicsville, Iowa.