We made it! Now what?
As families, businesses and communities around the world slowly dust themselves off and prepare for post-pandemic life, the financial industry is waking up to a new and unique set of challenges. From differentiation to technology, from staffing to branch utilization, like it or not, Covid-19 changed the face of banking forever.
Similar to other industries, technology has always been a part of an overall growth strategy, but in most banks it has never been the lead — until now. The pandemic turned what was a slow shuffle toward the edge of the technology cliff, into a hard shove right off the edge. Banks had to get nimble, creative, flexible and comfortable with a very different way of operating in a very short time period. And frankly, they did. But now what?
After successfully transitioning to remote internal operations, and serving businesses and consumers digitally, the technology-first approach has become the new norm, and not simply added value. There is an expectation of not only exceptional digital delivery function, but also speed, accuracy, personalization and intuitiveness. As bankers, we're tasked with knowing what people or businesses want and need — even before they do. Therein lies the challenge: How do we deliver at this level? Can we go it alone? Do we have the tools, the skillsets, the infrastructure? Do we have the culture to support this long-term? Does it (or how can it) align with our brand? 
The continuous push toward leveling up in the digital and technology game is often a driver for a larger decision to find one or more strategic partners, to combine resources — or organizations — to build the best, most competitive and sustainable solution. Enter the acquisition strategy!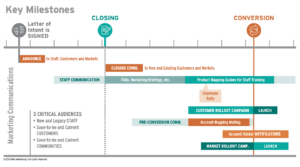 In an acquisition, communication is KEY
Regardless of your reasoning — technology or otherwise — if acquisition is a chosen growth strategy to position your bank for success, it's important to understand the value of proactive, transparent communication. 
Over many years in financial marketing and communication, acquisition has been a constant — allowing us the opportunity to build a turnkey process that makes product mapping, regulatory deadlines, internal and external communication, public relations, and market entry simple. Or simpler at least!
With retention of both staff and customers being the No. 1 goal, there's no such thing as too much outreach or preparation. By following a detailed timeline and checklist that begins with an announcement of intent, to all communication needed by closing and conversion, you really can accomplish a seamless transition. 
As long as your three critical audiences — staff (new and legacy), soon-to-be and current customers, and communities — are addressed regularly with a consistent and positive message, retention and satisfaction will follow.
What's your smart, bold move?
However your bank chooses to grow, level up and differentiate, remember to look up from daily operations — and look both inside and outside the financial industry — for best practices. Just as Covid-19 accelerated the adoption of technology both internally and externally, the need for banks to keep doing it better, faster and smarter will continue to be the trend. If there's one thing we can be sure of, it's that things will never go back to exactly the way they were. So adaptability is key.
Whether it's an acquisition, strategic partnership or building the infrastructure from within, keep looking ahead and relentlessly positioning to serve the customer not just today but for the future.
This column is produced by Mills Marketing and encompasses the collective wisdom of its highly-trained, highly-opinionated and highly-caffeinated financial marketing team. Becki Drahota and Sarah Bacehowski are the firm's principals.