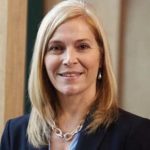 Karin Taylor joined Alerus Financial Corp., Grand Forks, N.D., as chief risk officer and executive vice president, effective Nov. 12.
Taylor succeeds current CRO Dan Cheever in a planned transition of executive leaders. To ensure a seamless handoff, he will remain with the Alerus as an EVP and a member of the' senior executive leadership team through the end of 2018.
Most recently, Taylor was CRO and senior vice president with MidWestOne Bank, Iowa City, Iowa. Previously, she was senior vice president of audit and compliance for MidWestOne and CRO for Central Bank, which was acquired by MidWestOne Financial Group, Inc., in 2015. Prior to that, she was director of risk management consulting at RSM.
"Assessing, managing, and mitigating risk is critical in the financial services industry," said Randy Newman, president, chairman, and of the $2.2 billion Alerus. "Karin's caliber and experience in risk management will enhance the leadership team of Alerus as the company continues to grow through its diverse and holistic business lines, including banking, mortgage, wealth management, and retirement and benefits administration."
Taylor has a Bachelor of Arts degree from St. Olaf College, Northfield, Minn., and is a 2018 BankBeat Outstanding Women in Banking honoree.