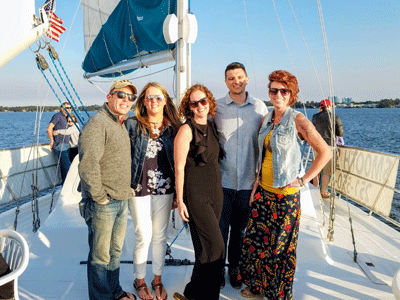 Jon-Myckle Price got into banking because of a pool. A lifelong swimmer, Price was writing a paper for a college economics class and chose to focus on his local public pool in Logansport, Ind., because it was on the brink of closing. The paper led to a job managing the pool after college, but it was while dropping off a deposit at a local bank that Price decided to apply for a branch manager opening. He spent four years in the role before taking a position with a tax firm. 
Spending his days in front of a computer left him unsatisfied, however, so Price sought out a job with more customer-facing time. He applied for a branch manager position with Security Federal Bank, but his application caught the eye of CEO Annette Russell and she asked to meet with the young man.
"Being from a small community, I was very aware of who Jon-Myckle was and the caliber of individual that he is," Russell said. "He always displays a sense of ambition and energy and is very inquisitive … so he's fully engaged in whatever he commits to."
Initially, Price came into the interview expecting only to get another branch manager position. Despite his lack of a fiduciary background, however, Russell hired Price for an opening in the trust department, confident he'd be able to pick up the technical skills. She was right — Price found the work intellectually engaging as well as emotionally fulfilling. "I found myself in a situation in the trust department where I can actually help families plan and do things for their family," he said. 
Price, now senior vice president in the bank's trust department, is one of five 2019 Rising Stars in Banking being honored by BankBeat magazine. 
Russell's initial gamble paid off, and the bank has continued to invest in Price, who recently returned from the Graduate School of Banking at the University of Wisconsin-Madison, where he focused on getting to know the bank as a whole.
"The more that he knows about the holistic view of the bank, the better of an asset he is to the organization as a whole," Russell said. "He is a significant contributor to the management of the bank today even." 
Price knew he wanted to give back to others. After spending his high school and college days as a swimmer,  he coached swimming for many years. Mentoring and passing on skills to others has played a part in his growth into a leadership role both inside and outside the bank.
Price has been extremely active in the Future Leadership Division of the Indiana Bankers Association, sitting on its advisory board, but has also pitched in at the national level with the American Bankers Association.
"We really wanted to have these conversations about how we engage our young people in our industry and how important that is to ensure that our industry is relevant and doesn't go away with the onslaught of changes due to technology and regulations and all this competition," he said.
Price has taken the skills and experience he picked up with those organizations to help build a smaller-scale version of the IBA program at Security Federal starting last year. More than half of the bank's approximately 70 employees participate in the program, which is aimed at increasing leadership and professional development. Although still in its early stages, the program focuses on both building skills but also offering networking opportunities. Rollout of a more formal mentorship program is due this fall.
"It's going to be exciting as we engage this next generation because we have a lot of thoughts," Price said. "[Management] knew they needed to start bridging that gap between the older generation with their wealth of institutional knowledge and experience, and then the upcoming talented generation that didn't have that same level of knowledge and experience but still had a lot of good ideas."
The ability to create this kind of initiative from scratch is part of what drew Russell to hire Price more than a decade ago. 
"I love his enthusiasm and I just admire his determination," Russell said. "He's got a lot of drive and he's a natural leader. He's not afraid to try anything new or different, and really embraces innovation and communicating with others."