Judy Guttau, a key leader at Treynor, Iowa-based TS Bank, will retire on May 1 after 43 years at the bank. 
As she's donned many hats over the years, her main goal has remained the same: Embodying the commitment of TS Bank to its employees and the communities it serves, a promise she's made good on in many ways. 
'We knew right away' 
Guttau didn't expect she would become a banker when she was a young adult. An Iowa native and high school graduate, she initially became an educator after she graduated from Iowa State University, where she met her husband, Mick. They married in 1968. Following their marriage ceremony, Mick was deployed to Vietnam during the war as a Cobra Helicopter pilot. Following his return to the states, the couple moved to Treynor, where they have lived since 1972. In 1978, Mick, at 31 years old, purchased the $8 million TS Bank, after a family member notified him of the opportunity. Judy began her career with the bank the following year. 
The Guttaus were especially drawn to the bank as a way to give back to Treynor, a community that made Mick feel welcomed. "As Mick and I grew up, our communities invested in us to help us grow, but It really struck home when our local communities welcomed Mick home with open arms from the Vietnam War, which was unusual in those times," Judy said. "When we had the opportunity to become bankers, we knew right away that we wanted for us personally and our bank to give back."  
Judy became board secretary in 1980, a role she's held since. Though initially she expected to only be responsible for taking minutes, she soon learned her position would be much more expansive and include sending annual meeting notices and proxies. "Then the examiners told me the minutes needed to have more detail, so the whole job evolved," she said. "Today with our bank charter acquisitions and affiliates and two bank holding companies and board committees there are many more minutes, many more details to take care of."  
As a husband-and-wife business team, Mick and Judy soon found that their strengths complimented each other: He brought a good eye for the bank's long-term vision, while she was skilled in handling the bank's day-to-day details. Mick instilled in Judy the need to always help customers — even if that meant referring them to another bank — and how important a positive mindset is. "I learned so much from him," Judy said.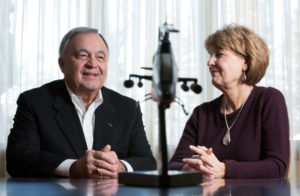 Igniting prosperity 
The essence of Judy's approach to her career can be summed up in the motto she helped develop: Ignite Prosperity. This phrase is intended to encourage children raised in the communities TS Bank serves to come back and invest in their hometowns. Their leadership has made this pledge a reality. 
Employees have been frequently welcomed into the Guttau family home. During Christmas seasons, Judy planned and hosted parties, gave away gag gifts and sang "The 12 Days of Christmas." Throughout the year, the family would close what was then the bank's only branch during the lunch hour to host "Meet and Eats" with their employees to further develop relationships. During those early years, when all the bank's employees fit into one large conference room, Judy made breakfast casseroles at home to bring and share during early morning meetings. Though TS Bank did not have a large marketing budget back then, the bank still made its community commitment known, through used book fairs, handmade posters to mark athletic accomplishments, and involvement in school and community parades.
In 1988, the Guttaus started a Statesman's Club, which eventually included 250 members. The group sponsored social events and travel and educational opportunities. Judy led club trips to places all over the nation where each social event concluded with the song "God Bless America." She also had the unique opportunity to host over 20 bankers and economists from former Soviet Union countries. 
The Guttau's children now play leading roles in the organization: Their son, Josh, became president in 2008 and CEO five years later. He's led the bank as it has grown to nearly $400 million in assets through expanding in southwest Iowa. Their daughter, Heidi, joined the bank board in 2000. Mick, now 75 years old, is chair. Judy plans to remain on the board even after retiring from her bank position. "I am really fortunate to be able to work with my family," she said.