Treynor, Iowa-based TS Bank is once again leading a motivational speaker series this month as part of its TS Promise program.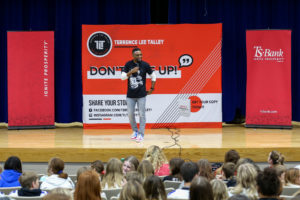 This week, speaker and author Terrence Talley is speaking before nearly 4,300 students at 10 southwest Iowa schools through Sept. 29, including Atlantic, Riverside, Treynor, Tri-Center, Underwood, Griswold, East Mills, Abraham Lincoln, Lewis Central and Southwest Valley. 
"Today, students face an uphill battle against bullying, peer pressure, family hurts and life-altering choices," the bank stated. "Terrence Lee Talley helps, encourages and unites students to work through trauma with a path to healing and positive choices." 
TS Bank has hosted TS Promise for the last 22 years. TS Promise is part of the bank's pledge to reinvest 10 percent of its net income back into the community and impact local youth.