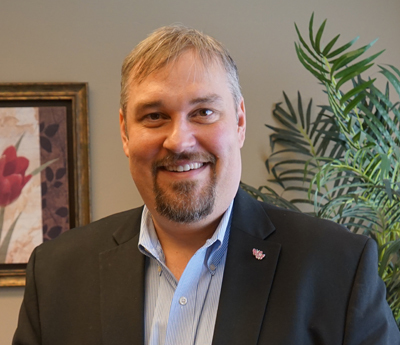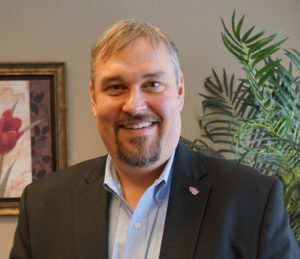 It's not often that bank and credit union executives break bread together. One might question whether it's even a good idea to put them in the same room. But come together they did, more than forty of them along with a dozen representatives of the vendor community, for the February kickoff of United Financials Making a Difference.
UFMD is the brainchild of Mike Dalglish of Case Financial, which provides ATMs, security, surveillance, and data analytics to financial institutions located in the Upper Midwest. His working supposition, Dalglish explained, was that individuals can set aside their differences in the interest of helping others.
At UFMD's first event, the "financials" as Dalglish called participating bank and credit union executives, were invited to attend a half-day education and networking event — for free — while participating vendors each paid $2,000 for access to the room.The event, which included a session on data analytics given by a FinTech leader, inspiration from former NFL player Matt Birk, lunch, networking and a heart-rendering talk about cancer, raised $22,000. Dalglish said 100 percent of the money raised was given to the Children's Cancer Research Fund.
Though bankers were not pressed to donate, many of them did after hearing from a woman whose child has cancer, Dalglish said. "I didn't see too many dry eyes."
The donation that resulted from the UFMD's event is just a start, promises Dalglish. "I see a way bankers can use their executive status to raise money for charity," he said. His ultimate goal is to create an event where industry executives parlay their influence and position in the community to promote charitable giving on a large scale. He believes the model he's developed for financial services executives will get him to his goal and he likes the idea of bankers out front as leaders.
Though he admits he's a few years from realizing this goal, he keeps it in mind while building on the success of the first event, which included some trade show innovations. For instance, the UFMD team asked its participating vendors to identify who among the registered "financials" they were most interested in meeting. With that data in hand, the UFMD team made seat assignments to facilitate productive conversations. The assigned seating also offered the benefit of keeping bankers and credit union folk at separate tables.
With 25 years of experience in the industry, some of it spent at the former Signal Bank, Dalglish acknowledged that bankers can sometimes feel preyed upon at vendor events or inside exhibit halls. "I know they want to get away from me," he laughed. "The feedback on the assigned seating was overwhelmingly positive." Sitting together at a table and chatting is a more natural way to interact, he added. The fact that everyone present had come, on the face of things, to support kids with cancer, helped too.
Dalglish brings to UFMD a good deal of experience in charitable fundraising. In 2012, Dalglish launched an event called PartyItForward, which raises money for DARTS, a Twin Cities transportation and services support organization. Dalglish serves on the board of DARTS and said the organization was invaluable to him and his wife in the months and years following a side-impact collision that nearly killed her. Dalglish raised $30,000 that first year and has built momentum since. In 2017, PartyItForward raised $61,000.
A banker who participated in the UFMD event said he attended because he knew Dalglish's track record on fundraising would ensure the event's success. Dalglish said his PartyItForward experience proved to be a good training ground for a more ambitious give-back initiative.
UFMD is building a social media campaign as a follow-up to its first event. Dalglish said banks can benefit by associating their brands with the UFMD initiative there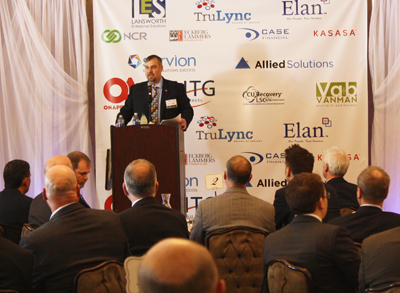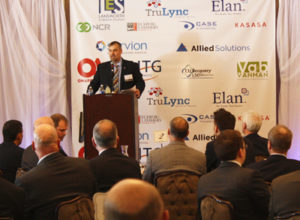 by demonstrating to a larger audience its commitment to charitable giving. "It costs [bankers] nothing, other than the travel time to attend," he said. UFMD is planning another half-day event, probably in August. The format will be the same but he's hoping to entice 60 to 70 "financials" to attend.
Case Financial, based in Anoka, Minn., covered all of the costs to promote and host the first UFMD function. Rachel Hansen, who works with Dalglish, declined to say how much money was spent. The company, which was founded in 1986 by Gene Case but is now co-owned by Dalglish, Troy and Grant Case, and Pete Peltier, provided the staff to develop and launch UFMD, a 501(c)(3) nonprofit. Hansen said it was impossible for her to quantify how much staff time the company invested in getting UFMD off the ground. Dalglish introduced the idea to his team in the summer of 2017 and "it's been part of every working day" since she said.