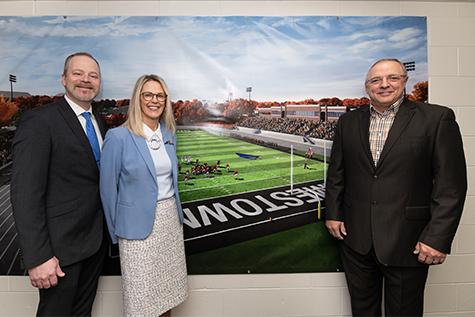 North Dakota's Unison Bank has partnered with the University of Jamestown and Jamestown Public Schools by contributing $500,000 to help fund their $11.5 million football field and track renovation project. 
Slated to open in fall 2021, the project includes a new turf football field and a nine-lane, 400-meter track, as well as a press box, seating and concourse. The stadium will be home to a combined 400 student-athletes between the University of Jamestown and Jamestown High School Football and Track and Field.
"We are so grateful to Unison Bank for their significant contribution to this project," said University of Jamestown President, Polly Peterson. "Thank you, Unison Bank, for believing in our community and the multiplier effect this project will have for all of Jamestown."
Jamestown High School will play their first home football game on September 3rd and the University of Jamestown will play on September 11th at the new facility.
"We're proud of our community bank heritage and the areas we serve," said Unison Bank President & CEO, Kelly Rachel. "We've been blessed and therefore are honored to give back to such an important project in Jamestown. This facility will be a tremendous asset to the Jimmie and Blue Jay athletic programs. In addition, it provides an opportunity to host local, regional and statewide events which benefit our entire community."
"This project is a wonderful collaboration that meets the needs of both UJ and JPS," said Jamestown Public Schools Superintendent Robert Lech. "The concept was a result of the long-standing relationship between our organizations but was made possible by generous supporters like Unison Bank. We are grateful for this investment in our kids and our community."