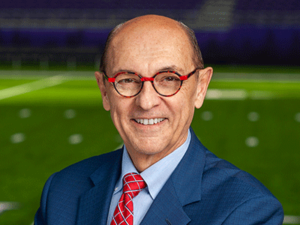 Michael Vekich has become known among politicians and the press as the "fix-it man," or the "go-to guy."
"I've been fixing organizations for a long time," he said, whether it's governmental, public, private companies or banks, as an accountant. The firm he bought in 1978 ultimately led him to practice in nine foreign countries. He's being honored as one of BankBeat magazine's 2021 Amazing Outside Directors.
And Vekich has always been intrigued by banking. At Bismarck, N.D.-based BNCCORP, where Vekich is chair, he hasn't had to put out fires like he has in the past, although he's been helpful in focusing and enhancing the bank's strategic plan. "We're looking at our business very carefully," Vekich said. At the end of 2020, BNC National Bank agreed to sell certain loans and assets of its Golden Valley, Minn., location to Coulee Bank, LaCrosse, Wis. The bank plans to focus on its North Dakota and Arizona markets, and its residential mortgage business.
"I was able to take a look and help refine the strategic focus of the bank, focus on its core businesses, and be able to help drive the metrics of return for the shareholders," Vekich said. 
"At times we make business more difficult than it is," Vekich said. "There are strategic pieces of it, but there's also what I refer to as blocking and tackling. You have to be very good at that to execute on a strategic plan."
In the late 1980s, a number of banks he worked with didn't have the capacity to do pre- and post-audits of credit findings. So, he developed a strategy and structure and advised banks, both large and small. This led to banks calling his firm when they got in trouble with credit, asking for help. "So we built a practice around that."
Vekich has always been intrigued by the numbers and problem-solving side of accounting, and a childhood on northern Minnesota's Iron Range fostered in him an interest in law enforcement. He considered becoming a CPA seriously in the eighth grade when he learned that the FBI — where he wanted a career — hired a lot of CPAs.
With parents from Yugoslavia, Vekich is a first generation American, and the youngest in the family. As a child, there was always a household focus on doing well in school. "Education was a great equalizer, and allowed the kind of freedom to do whatever you wanted to do if you so chose.
"So at an early age … I just got a real focus on 'doing'."
Vekich was considered the go-to guy when he took over as acting director for the Minnesota State Lottery in 2004, after the unexpected death of the previous leader. He took over the lottery for a second time in 2012, when he was deemed "Mr. Fix-it."
Vekich said in all scenarios, communication and integrity are important. "Always tell people the truth. No matter how bad it is, people want to know."
Vekich doesn't sugarcoat, and he's not about the status quo. He's always looking to improve processes and performance, and he's transparent about the high expectations he has for others and their organizations — ultimately because he believes in peoples' potential. "I'm fair, firm and friendly."
As a fix-it guy, Vekich loves innovation, technology, "and I love pushing the envelope and not being afraid to look at something different, even if it makes me uncomfortable," Vekich said. "I think that's pretty much been my life."
People say that Vekich is a serious guy, and he wouldn't disagree. "I think I have a pretty nice sense of humor, but I'm serious about what I do. I care a lot about the people, and the outcomes."
When Vekich reminisced about what the banking industry was like 10 years ago, and what it is today, he said "it's just worlds apart." But what's consistent is the need for board members to know their risks, vision, mission and strategy and "to always run a little bit hungry."