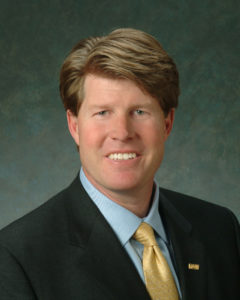 Guest Presenter: KC Mathews, executive vice president and chief investment officer of UMB Bank, n.a.
Webinar Date: August 15, 2019
Webinar Time (CST): 12:10pm

---
President Truman requested a "one-handed economist" after complaining that "all my economists say, on the one hand…and on the other." I imagine that he is not alone. However, forecasting economic conditions can be challenging due to the complexity and numerous variables that could change the economy's path. Present conditions are sending mixed signals—on one hand, the stock market signaled a recession in the fourth quarter of 2018, then abruptly changed course in the first quarter of 2019. On the other hand, the bond market has been messaging a slowing economy for some time. Then, in the first quarter, the yield curve momentarily inverted, suggesting a looming recession. And on the third hand, the economic data has unwaveringly pointed to moderate economic growth. During this webinar, KC Mathews, chief investment officer at UMB Bank, will discuss where the idea of the "three-handed economist" comes from.
Registration: Free
Start Time: 12:10 p.m. CST
Length: 45 minute presentation with 5 minute Q/A
To register, click here.
KC MATHEWS joined UMB Private Wealth Management in 2002. As Executive Vice President and Chief Investment Officer of UMB Bank, n.a., KC is responsible for the development, execution and oversight of UMB's investment strategy. He is chairman of the Trust Investment and Asset Allocation Committees and chairman of the Asset Management Policy Committee.  KC has more than 25 years of experience in investments analysis and management for individuals, families, business owners and charitable organizations. His commentary has been featured in various national, regional and local media including Bloomberg. KC also contributes regularly to the UMB Blog, at blog.umb.com.
---
To view past BankBeat webinar recordings, click here.
View more upcoming webinars