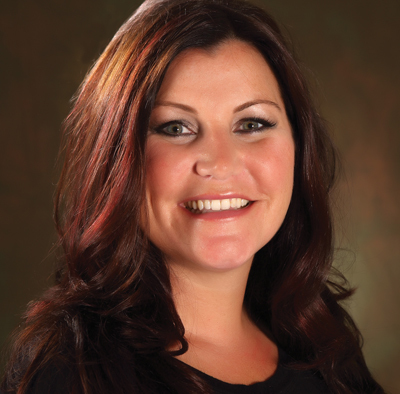 Rarely does someone fresh out of college looking for a creative job respond to an ad from a bank. Then an assistant manager at a local restaurant, Becky Miller saw a First Bank Financial Centre listing for a marketing assistant. A dozen years later, Miller is officer for corporate marketing at the $1.1 billion Oconomowoc, Wis., bank.
Miller's creative itch was satisfied recently by a complete revamp of FBFC's website. With Top Floor of New Berlin, Wis., doing the coding, Miller managed the project every step of the way, rewriting every line of copy on the site's 200-plus pages. Even for someone with a bachelor's degree in journalism and mass communications from UW-Milwaukee, that was no small undertaking.
"We purposefully went into this project knowing we wanted to change the tone of the website to be less commercial and more personal," Miller said. "I think it's funny, because it really is my voice. That's how I talk. I told people as I was doing it, friends and staff, when you look at your website, you're going to read it and know Becky wrote that."
Rather than a prototypical claim to longstanding success in the community such as, "First Bank Financial Centre has been in business since 1859," Miller chose a bit more informal route. The internet's limitless bounds allow for the more conversational approach. Along with creating a responsive design more conducive to mobile device use, the improved tone was one of FBFC Vice President of Marketing Jeff McCarthy's top goals in the website redesign.
"One of the things that always frustrates me is bank websites all tend to sound alike, look alike, say the same thing," McCarthy said. "Becky really created a new tone for our site. It is definitely reflective of us as an organization, but it does not read like websites generally read from other banks. It's uniquely us."
The bank's online presence does more than provide smirks available via cell phones and tablets. Miller sought to make it more applicable to customers. Rather than a lengthy questionnaire to determine what account would best suit someone, FBFC's website asks two questions: How old are you and how much do you plan to maintain in your account? From there, along with the online Financial Education Centre, a customer can learn more than expected about financial futures.
Much of it was designed with Millennials in mind. Miller is quick to point out in her case study featured on the American Bankers Association Bank Marketing site, "62 percent of Millennials feel scared, overwhelmed, or anxious about managing their money. This is a statistic we hoped to help change."
That case study — titled "From Ugly Duckling to Beautiful Swan" — has prompted a handful of banks to reach out to Miller with questions as they ready their own website projects.
"It's actually been really rewarding for me to help others," Miller said. "It can feel like a pretty daunting task, especially if website design is not your forte, which it wasn't mine to begin with. But now I feel like I know a thing or two about website redesign."
Editor's Note: Becky Miller was honored by NorthWestern Financial Review/BankBeat as a Rising Star in Banking in 2017.