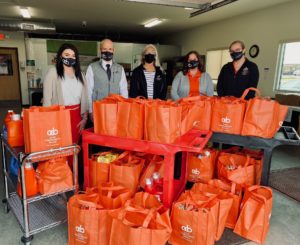 One Community Bank donated almost 3,500 pounds of food and other necessities to local nonprofits earlier this month.
The Oregon, Wis., bank held a week-long food drive in each of the communities it serves: Oregon, McFarland, Stoughton, Waunakee, Sun Prairie, Middleton, Adams, Oxford and Grand Marsh, Wis.
After the event, One Community Bank donated a total of 3,436 pounds of food and other requested items to local food pantries. The event enlisted the aid of employees and community members, with bank staffers competing for who could collect the most. Community members who donated were entered into a drawing for gift cards to local businesses.
"One Community Bank is very proud to support our communities in any way that we can." said Steve Peotter, president and CEO. "Power of ONE community week was just an additional opportunity for us to show our support and investment in the communities we serve."
OCB hosted this event in honor of Wisconsin Bankers Association annual Power of Community Week. This week is dedicated to showing the collective support community banks provide to businesses and their communities.
The $1.4 billion One Community Bank has 11 locations in south and central Wisconsin.