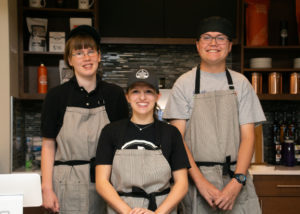 Community State Bank, Union Grove, Wis., resurrected its Union Grove office on July 23 with a sweet addition.
Shepherds Community Cafe abides in the newly-renovated branch lobby, and employs students with intellectual disabilities from Shepherds College.
The refurbished office design emblemizes "everything a community bank stands for," catering to strong communities and building quality relationships, said CSB President and CEO Scott Huedepohl.
The office, which had been under renovation since November 2017, also features a drive-thru, collaboration centers for employees, community rooms and an outdoor patio.
The cafe is a partnership between CSB and Shepherds College, one of the nation's leading post-secondary educational programs for students with intellectual disabilities. Shepherds Community Cafe will provide work experience,opportunities and training for the local students.
"Shepherds Community Cafe is more than coffee," said the cafe manager, Brooke Clark. The cafe is about acceptance, inclusion and bringing communities together, and a chance for the students "to showcase the skills they are learning at school."
The cafe serves Stone Creek Coffee, from a Milwaukee-based roaster, and bakery goodies like muffins, scones, cookies and croissants. In addition to the cafe seating, the space offers meeting rooms available to community businesses and organizations.
CSB and Shepherds College plan to gather community members for a grand opening event on Saturday, Aug. 11, offering office tours and cafe samples.