Associated Banc-Corp, Green Bay, Wis. donated more than 90 paintings by a Milwaukee-born artist to the Wisconsin Historical Society.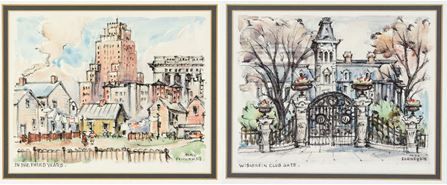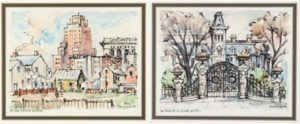 "As Associated Bank celebrates 157 years in business this year, we understand the importance of preserving history," said David Stein, executive vice president of Associated Bank.

The $34 billion Associated acquired Bank Mutual earlier this summer, along with the former CEO's painting collection, which was displayed throughout Bank Mutual's corporate headquarters. Michael T. Crowley Sr., the late CEO, collected paintings by Max Fernekes that span five decades.
"I am pleased to see that my father's lifelong passion of collecting the work of the Wisconsin artist, Max Fernekes, will be shared with the public through this donation," said Michael T. Crowley, Jr., Associated Bank board member and former chairman of Bank Mutual.
The artwork features urban and rural Wisconsin scenery from the 1930s, including rolling hills, historic landmarks, buildings and vistas. Fernekes, born in 1905, spent the first 35 years of his life in the Milwaukee community, and final 44 years in Mineral Point, Wis.
"With this generous donation of Fernekes' paintings from Associated Bank, we can continue to preserve, document and share the stories of Max Fernekes' artistic career and the changing face of the communities shown in his paintings with the people of Wisconsin and beyond," said Christian Overland, a director at the Wisconsin Historical Society.
"[Associated Bank is] proud to help Bank Mutual, the Crowley family and Mr. Fernekes preserve this part of their history," Stein said.