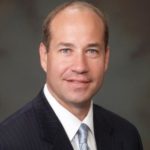 Doug Kohlbeck has joined Wisconsin Bank & Trust, Madison, as executive vice president and head of commercial banking. He will oversee three departments: commercial banking, treasury management and payment solutions and will help lead business development efforts, strategic planning initiatives and credit risk management.
A lifelong Wisconsin resident, Kohnbeck recently was senior vice president, director of business banking and director of strategy and support services at Associated Bank, Green Bay, Wis.
He has a Bachelor of Science degree and an MBA from the University of Wisconsin-Oshkosh. He has been actively involved in the Green Bay area and is currently an executive board Member for the Boys and Girls Club of Green Bay since 2013.
"Doug has built an outstanding 25-year career and reputation in the banking industry, and his experience will support Wisconsin Bank & Trust's goals of continued growth and prosperity," said Brent Giles, president and CEO of Wisconsin Bank & Trust. "We are happy to have him help deliver financial expertise to our clients throughout Wisconsin."
Of his recent hiring, Kohlbeck said, "I'm excited to be joining the Wisconsin Bank & Trust team and eager to build on the current successes of the bank by shaping our commercial banking strategy to meet the needs of our clients and grow the business."
The $1 billion Wisconsin Bank & Trust has 16 branches in Wisconsin.