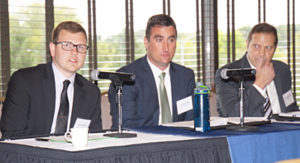 Key performance metrics at Minnesota's state chartered banks haven't changed much in the last year, said Max Zappia, Deputy Commissioner of Commerce, speaking to a group of more than 100 bankers on Sept. 27. Yet, with liquidity tightening, economic expansion expected to diminish, and leadership changes at the FDIC, Fed and CFPB, Zappia said Minnesota bankers should expect a shift in regulatory exams over the next two years.
"Liquidity continues to tighten and this is especially true in the ag sector," Zappia commented. "We need to be sure banking practices and business models are not overly exposed during the inevitable downturn," he added.  
The Commerce Department event featured an examiner panel to discuss potential changes in exam focus. The panel featured Michael Crow, chief examiner with the Minnesota Commerce Department, Chris Riba, assistant vice president with the Federal Reserve Bank of Minneapolis, and Robert Swanhorst, supervisory examiner with the Minneapolis office of the FDIC.
The liquidity landscape across Minnesota is tightening but for different reasons, said Crow. In agricultural areas, compression is a function of overall economic pressures, including the impact of recently enacted tariffs, while in the competitive metro area there's been loan growth, with subsequent impact to liquidity.
Crow said seven banks in the state were rated unsatisfactory with regard to their liquidity positions in the current year; it's the same number of unsatisfactory ratings for liquidity reported last year, although four of those seven institutions are new to the list. These rating determinations have to do with liquidity but also the risk management practices as they relate to liquidity, Crow said.
Riba said risk layering is a conversation he's been having with many of the 28 banks the Fed regulates in Minnesota. "We haven't had too many downgrades on liquidity yet," Riba said, adding that his examiners are having more conversations across the system. More liquidity downgrades are being seen in other Fed districts, and those downgrades are based on liquidity positions and are not tied to asset quality.
The FDIC has seen a decline of liquid assets at community banks, said Swanhorst, along with a corresponding decline in non-core funding. Now, non-core funding is beginning to increase but not the liquid assets. "Most of the banks we see have good fund management practices and good liquidity monitoring; a lot of the downgrades we've seen are from a 1 to a 2, based on the risk profile of the institution," he said, adding that the FDIC is constantly monitoring the situation.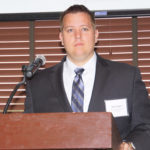 When the FDIC tracks liquidity, Swanhorst said his agency focuses on five common characteristics of liquidity failures: capital levels based on risk and funding needs; asset quality and high-risk funding needs of the assets; earnings position (are the loans yielding good returns?); liquidity level with regard to short-term investments and the securities portfolio (where are the assets concentrated or how are they diversified?); and the funding base. Beyond looking at non-core funding, "we look at the stability of the deposits," Swanhorst said.
A new direction for the FDIC, Swanhorst said, is the bank's own analysis of its liquidity position. Newly released guidance instructs examiners to look "at the stability of deposits and look at the bank's analysis and go from there."
"We expect the banks to have an understanding of their depositor behavior," Riba said. "We're focusing on cash flow analysis" and contingency funding plans, he added. "We expect as liquidity gets tighter, risk management practices ramp up as well."
Shortly after the 2008 financial crisis, core deposits jumped and bankers' use of non-core deposits diminished. Now examiners are placing extra attention on banks' funding diversification strategies. "In the last two to three years, listing service deposits and brokered deposits have been utilized more," Crow said, adding he didn't view this as bad. "Those are products available to you, but we are going to look at how you manage that added risk, especially in your contingency funding plans."
In terms of lending concentrations, Zappia said his office is seeing increased concentrations in commercial real estate and in agriculture. It's something his office is commenting on, but not downgrading banks on. Yet.
The risk of recession in 2019 is 27 percent, said Laura Kalambokidis, Ph.D., Minnesota state economist and head of economic analysis at the Minnesota Office of Management and Budget. Minnesota has a diverse economic base with employment widely spread across sectors, she said. "We tend to not have big boom and bust cycles."
The economic picture in Minnesota is a function of its a well-educated and engaged workforce. The state ranks second in high school diplomas earned, 10th in bachelor's degrees earned, 18th in advanced degrees earned, it has the third-lowest poverty rate and currently it sits at No. 1 in labor force participation.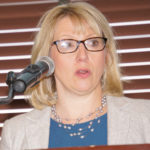 A drag on economic expansion is the state's low unemployment rate, currently 2.9 percent compared to 3.9 percent nationally. Even using expanded measures of unemployment, taking into account marginally attached workers, discouraged workers and part-time workers, rates are at pre-recession numbers. Banks looking to hire will need to be creative and look to pockets of unemployed populations. "We don't have a lot of people on the bench."
Commerce Commissioner Jessica Looman told bankers the financial institutions division within Commerce is focusing on transparency and availability. "We are trying to improve communications between the division and bank management," Looman said. To that end, the department recently formed a Bank Advisory Group to help it improve how it interacts with the institutions it regulates. Looman also said examiner attrition has subsided.
Looman also assured bankers that while the November election would bring a new governor and a new executive administration, the impact of those changes to bank regulation should be negligible.