The Pacific Coast Banking School doesn't just teach bankers about maintaining proper capital ratios and other metrics to make sure they're guiding their institutions on a profitable, sustainable course; it prides itself on giving bankers a well-stocked toolbox in soft skills, too — especially when it comes to leadership.
Founded in 1938 and hosted by the University of Washington's Foster School of Business, PCBS awards a graduate-level certificate in the Business of Banking, as well as a Leadership Certificate from the business school to those who complete the rigorous program.
"You think banking school is sitting in this stale room crunching numbers all day," said Gary O'Connell, market president for central Oregon at Summit Bank, Eugene, Ore., and a 2012 alumnus of PCBS. "It's a lot more dynamic than that. There's leadership, people development, marketing, technology and innovation, regulation, credit underwriting, the topics are endless. It's invaluable."
During its three-year program, participants make three, two-week-long trips to UW's Seattle campus that blend an academic foundation with current, practical industry practices.
First-year PCBS students take core classes on credit risk management, financial tools and managing financial performance. In year two, innovation, asset liability management and enterprise risk management make up half of the curriculum, with electives filling out the remaining 50 percent.
Electives range from cyber security, managing investment portfolios, retail banking in the 21st century, estate planning, global finance and more. The school benefits from being situated in one of the hottest tech hubs in the nation. The school taps that expertise to bring the latest in innovation into the classroom, and it's been an increasing part of the curriculum dating back about six years.
But from day one, attendees are taught leadership, which culminates in year three with two capstone courses: one with hands-on exercises, developing techniques on building culture, working with people and conquering challenges together. Trained facilitators who are experienced bankers guide the course.
The other capstone course involves a two-week-long simulation exercise where bankers are divided into small teams to take on varying bank leadership roles in different scenarios.
That leadership component really stood out for Cody Ritter, senior vice president and commercial team leader for southwest Washington at Riverview Community Bank, Vancouver, Wash., who graduated in 2018 from PCBS.
"You're getting away from the numbers, trying to lead people, not necessarily trying to manage them," Ritter said. "And they're trying to help develop future leaders in the banking industry."
On the day of his graduation, Ritter was promoted to his current role, which he strongly attributes to his PCBS education.
Between trips to Seattle, students are assigned papers that require 15 to 20 hours per month — deep dives into aspects of the industry such as bank performance, credit administration and loan origination. The final project is a management report of  50-80 pages. It's a thesis on which students work with their adviser and their bank on possible new lines of business, consider how the marketplace is changing, and examine other areas of potential growth or future innovation, for example.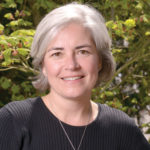 "A lot of times the students bring their paper back to their bank, and some changes happen right away," said Kathryn Thompson, PCBS vice president of marketing and business development.
The impact of that paper is one of the huge upsides of attending PCBS, said Chris Hemmings of Summit Bank.
"That's where I have the opportunity to make a difference to our community bank for the next 10 years, and I think that's terrific," said Hemmings, a vice president, controller, at Summit who is currently in his second year at the school.
About half the students are community bankers, most others are from regional or national banks, and regulators comprise about 10 percent of each class at PCBS, which has the distinction of having the first female CEO of a graduate banking school in the country. Gretchen Claflin was appointed CEO in April 2018 after serving as president since 2016 and COO since 2013.
Enrollment demand has been steady, according to Thompson, with each class filled to capacity at around 250 students.
Seeing what colleagues such as O'Connell who are alumni of the school have gone on to accomplish, and hearing them sing its praises, was also a big draw for Hemmings. "They spoke so highly of it and obviously have achieved elevated positions in their careers, in part because of that continuing education," he said. "The reputation of the school, and when you see the product of it in action, and the quality of the executives and loan officers we have … for me it was an easy decision."
That's what also prompted O'Connell to enroll back in 2010, as the industry was in the depths of the Great Recession.
"I had previous mentors and colleagues who had gone through it, and I saw the impact it made on them in terms of opening their eyes to different opportunities in banking, and different ways of doing things, growing and progressing in their own careers to be contributors to their organizations," O'Connell said. "Everybody spoke glowingly of the program. A common response was: It's difficult and time consuming and you have competing priorities and still have your job. It's a commitment, but the work is the reward."