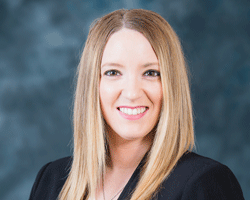 The banner pinned next to Megan Willcoxen's phone summarizes her career in three short words: Make it happen. 
Since she began at Peoples Bank Midwest nearly 11 years ago, a 20-year-old college student working as a teller, Willcoxen has seized every opportunity to learn and serve the bank. Today, married and pregnant with her second child, she is a vice president of the $380 million Wisconsin-based bank, directing treasury management services at its Vadnais Heights, Minn., office and providing leadership for its three branches. 
Willcoxen is one of five mid-career bankers being recognized as a 2019 Rising Star in Banking by BankBeat magazine.
"She jumps in and literally does anything before anybody else realizes that something even needs to be done," said Wes Beedon, a colleague at the Vadnais Heights office. 
When you get to know Willcoxen, it becomes clear that she's wired this way. She likes her job, respects her colleagues and relishes a challenge. Crossing tasks off the to-do list is her idea of fun. This above-and-beyond approach, to Willcoxen, is the obvious one-and-only way. 
During the financial crisis, for instance, the bank ran a money-market special to encourage people to open more accounts (and thereby improve its liquidity). The special was so enticing — with rates of 2.09 percent in 2009 and 2.10 percent in 2010 — that the bankers could hardly keep up, scurrying around with clipboards and asking new customers to fill out the initial paperwork.  
Willcoxen, then a lead teller, taught herself how to open accounts to help customers.
"She was fearless," said Kevin Whelan, president. "She threw herself into the fray. People walked out loving her — and the bank kept good customers. This was a kid going to school at night with no formal training on how to open an account."  
Years later, turnover at a senior treasury management position at another branch brought turmoil. Willcoxen drove to the bank's Eau Claire and Hayward branches in Wisconsin to train the staff. 
That experience paved the way to her next stand-out effort, making her more curious about the profitability of their business accounts. On her own initiative, Willcoxen created a profitability worksheet last year and used that tool to assess every account at her office — hundreds in total. Her work revealed which customers were not making a profit for the bank, which led Willcoxen to change the bank's service-charge routine and adjust about 75 accounts. She taught the other branches how to use the worksheet to assess their accounts.  
The undertaking was tedious, she admits, but worthwhile — and "very appealing, in an odd way, to complete from start to finish." 
Willcoxen also resuscitated the bank's risk management committee, refining its organization and earning the respect of its more senior members. "She has empathy and also a no-nonsense approach: This is business; let's get it done," Whelan said.   
That translates to an impressive work ethic, he said. "Megan gets more done in half a day than most people get done in two." 
Working in treasury management, Willcoxen must stay at the forefront of cutting-edge technologies to offer customers the best products and services. It comes naturally to the millennial, who pushed for mobile banking and the creation of the bank's Facebook page.  
Being the mother of a 2-year-old has made the longtime banker more patient, which helps her serve people who need guidance on higher-tech services. 
Providing first-rate customer service is perhaps where Willcoxen's make-it-happen attitude shines the most. "It's a way to live your life and never say never," she said. "We'll never tell a customer we can't do something. Rather, we'll work on a solution to meet their needs."
Making it happen makes her colleagues look good and her customers feel good, Whelan said. He once told the bank's owner: "If I had five Megan Willcoxens, I could run the free world." 
Her approach to service is fostered outside the bank too. Willcoxen takes the lead in community service, a priority at Peoples Bank Midwest. She regularly sends emails informing her colleagues of an upcoming event and offering to register them. They can respond with a simple "yes" and show up at the start time. Willcoxen, meanwhile, will already have arrived early to pitch tents or set up tables.