When Dayna Burtness and Nick Nguyen decided to break into farming, it took them three years to find the right acreage and the financing to acquire it. Despite their excellent credit, banks were asking for a 40 to 50 percent down-payment on undeveloped land. That translated into roughly $100,000 for the 67-acre site they wanted. It was money the Spring Grove, Minn., couple didn't have.
Burtness turned to the Farm Service Agency's down payment loan program. It doesn't offer pre-approvals, however. To even find out if they qualified for a loan, the couple needed to have a signed purchase agreement in place, she said. Frustration resulted. "Needing to delay the closing date by several months due to the slow FSA loan process greatly weakened our bargaining position," Burtness said. The process also completely eliminated the option for them to buy land at auction, she reported in the National Young Farmers Coalition's young farmers' survey.
"Basically, FSA loans only work when a seller will give you preferential treatment, the seller is a family member, or you're the only one interested in the land," Burtness said. "If someone else had come along with cash in hand during the negotiating process, we would probably still be looking for land today."
Beginning farmers are finding creative and diverse pathways into farming. Young farmers still face challenges, including the acquisition of acreage and financing.
Barriers to entry
Only 6 percent of all primary farm operators in the United States are younger than 35, according to the 2012 U.S. Department of Agriculture's Census of Agriculture, the most recent available. That census showed, however, that for only the second time in a century, there was an increase in the number of farmers under 35.
The most significant challenge for young farmers is finding farmland, according to a survey conducted last year by the NYFC. That's also the No. 1 reason why young farmers quit farming or give up on their farming dreams before they've had a chance to start.
Andrew Barsness also is a newcomer to farming. Though he had been studying agriculture systems management in college, he had no idea what he wanted to pursue as a career and neither he nor his parents had farmed. But he had connections Burtness didn't. His grandparents had farmed. When they passed away in 2011, the future of the family farm was an open question. "I had an urge to try farming," Barsness said. "I tried it, fell in love with it, [and] can't imagine doing anything else now."
Barsness currently rents 160 acres from family as he transitions the land to certified organic. "From a financial standpoint, a small grain farm like mine needs to either expand and produce more product volume or find a way to add value to what I currently produce. So I've chosen to focus on adding value rather than rapid expansion," he said. His is a common and often more practical approach taken by young farmers who don't have the equity and capital required to expand.
Growing organic introduces its own set of challenges. For instance, Barsness can no longer sell to the local elevator. He has to sell out-of-state, which means a longer timeline for storage, of which he doesn't have much. This year, he said he intends to have his grain custom-harvested and find a buyer who can handle volume in a short timeframe. In the future, he'll need a new combine, more storage, and drying facilities.
Barsness faces the same challenges Burtness and other young farmers face: access to more land and equity.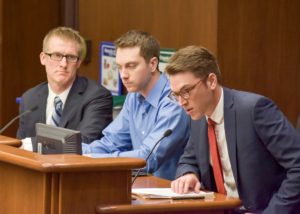 "I didn't grow up in a rural community," he said. "So if I want to expand in the future, it could be difficult because [farming] depends a lot on who you know."
An acre of farmland in Barsness' west central Minnesota area sells for between $7,000 and $10,000 per acre. To help other young farmers like him gain access to land, Barsness worked with his local chapter of NYFC to get a bill passed in Minnesota that offers a tax credit to landowners who rent or sell land to beginning farmers as an incentive.
Like Burtness, he said he had a hard time acquiring funding through traditional lenders and utilized Farm Service Agency options.
Catch-22 for rural bankers
"Financing young farmers is always interesting, to say the least," said Ed Elfmann, senior vice president of ag and rural banking policy for the American Bankers Association.
Young farmers need collateral, but they can't get financing for that collateral without collateral. That's what holds the industry back from doing as much as they'd like, Elfmann said. "Young farmers aren't necessarily risky, but they need to have the basics in place."
There are a variety of ways bankers can utilize government programs to help mitigate risk when financing beginning farmers, Elfmann said, pointing to FSA's guaranteed loan programs for real estate. Financing in this program during the first six months of the fiscal year is reserved for a specific group of people that includes young farmers. The program, Elfmann said, helps bankers minimize their risk basis, which keeps the regulators happy.
FSA's direct loan programs allow a farmer to apply and use those funds as a down payment on a loan with a traditional lender. The Small Business Administration is "another place we can use the federal government to leverage what we do," Elfmann explained. The SBA has plans for getting into agriculture and livestock. There also are rural development programs, such as those intended for businesses that process meats. Elfmann's advice to young farmers: "Find ways to have the government help you."
Elfmann knew of the work Barsness and the NYFC had done in Minnesota. "That's good stuff," he said. "I'd like to see that looked at in more states to get more people into farming that weren't before."
As for this new crop of young farmers? "It's interesting to see how they treat ag more as a business than a lifestyle," Elfmann said. "I think they're approaching ag differently. In some ways, it makes it easier for us as lenders because they're ready to go."
First Dakota National Bank in Yankton, S.D., offers Agrivisions, a year-long educational program for beginning farmers and ranchers. The program, run by Nate Franzen, teaches the basics on topics like financial management, marketing, risk management, family business dynamics, agribusiness, global economics and strategic planning.
While the program doesn't guarantee financing after completion, Franzen said, participants who "are fully engaged and fully committed and learn through the program are absolutely prepared to seek financing from us or any other lender for that matter," Franzen said. First Dakota, he said, wants to do business with people who understand business and will manage it well. "The things they learn should make them more bankable."
While some farmers may not be in a position to qualify for capital, there are some "creative ways to get involved and build up scale — develop earnings and build capital," Franzen said. The First Dakota program explores those options as well.
So far, Barsness and Burtness have both found creative ways to build capital.
Burtness, 32, is a graduate of St. Olaf College in Northfield, Minn., where she designed her own degree in food systems. After a varied career, farming "wouldn't stop tugging at my heartstrings." She and her husband now raise pastured pigs at Nettle Valley Farm in Spring Grove, Minn. Their farm has 15 acres of open pasture and 50 acres of "gently sloped woods full of oaks, so pastured pigs were a natural fit for our terrain." Burtness sells her product directly to consumers.
For Barsness, the future of organic grains looks hopeful. "I think demand will continue to grow. I don't think the outlook is as positive for traditional grain farming," he said. "A large portion of U.S. grain farmers are losing money right now. Some are going out of business or choosing to retire early. It doesn't seem to me that things are going to change for awhile."
Both young farmers see the need to diversify and get creative to have a future.
"The next big project on the horizon is to launch a small incubator farm program and help other regenerative farmers launch their businesses," Burtness said.
This article is presented through a sponsorship from FarmerMac.