It will really be music to his ears if Mark Bragelman hears, "We're meeting in The Vault." The president and CEO of Liberty Bank Minnesota in St. Cloud, who doubles as the town's lead concert promoter, thinks a creative new community meeting space entered through a vault door will be the highlight of the bank's new headquarters now under construction along a north-south corridor of I-94, roughly 65 miles northwest of Minneapolis. The Vault community space will soar three-stories in the new 12,000-square-foot building. It will feature maximum audio-visual capability and showcase a trove of country rock memorabilia from the bank's sole sponsorship of 30 popular "block party" concerts that annually draw about 10,000 people.
Customer-oriented community room and café spaces are becoming standard as banks realize that a different kind of brick and mortar is needed to keep services connected with existing and new customers.
Liberty, the oldest bank in St. Cloud, population 67,641, began as Liberty Loan in 1939. It has six branches serving 40,000 customers and is a seller/servicer and beta site for government loan programs, Bragelman said. Operations have outgrown the $210 million bank's historic downtown location, where  in the basement, Bragelman said, the original owners hatched chicks in their venture that became Gold'n Plump Chicken. An attached building once served as a DeSoto car dealership.
The new headquarters, scheduled to open at the end of summer, will have ample parking (growing from seven to 50 spaces), traditional teller lines and smaller gathering spaces. But the centerpiece of the building will be the décor in and around The Vault, which will feature memorabilia such as Charlie Daniel's special-issue Epiphone guitar or the pants worn by a member of Sawyer Brown, the band that won "Star Search" in the 1980s.
Sean Raboin, partner at HTG Architects, is among the architects guiding banks to think about spaces he calls "business centers" as a routine part of the design consultation. Tables, chairs on wheels and audio-visual equipment are provided. Design of such space may require a 24-hour accessible secure entrance, and other features such as kitchens, to accommodate special events.
Raboin goes the extra step of recommending banks dedicate a staff person to market and schedule such spaces as open and free of charge during the day. Some banks have installed an iPad outside such rooms so customers can self-schedule. Bookings are filled months, even years, in advance in communities of all sizes.
Minnesota National Bank in Sauk Centre, population 4,356, opened business centers in two of its locations; they are free for customers and available to others for a small fee. In a sample five-day period the rooms were rented two or three times every day. Donald John, the $231 million bank's CEO, even sourced a commercial-grade specialty coffee dispenser to offer lattes and custom beverages similar to a car dealership. A cookie oven bakes fresh daily.
"Many of our small businesses and entrepreneurs don't have good meeting space, or a place for employee interviews or vendor meetings. They would otherwise be meeting in the back of a restaurant," John explained. Users of the center range from a small home-based business selling essential oils to Sauk Centre's school board, Chamber of Commerce, or Lions Club executive board.
"Anything that is good for our customers and our prospects is good for us. We love our market. Everyone wants to do these things [a business center], but we already had an extended business day from 7:30 a.m. to 7 p.m.," John explained. "Our team will even do after-hours openings and closings."
The center enhances the bank's promotion of financial literacy, deemed especially important for the millennial generation. Students and parents turn to the bank for advice. Programs of guru Dave Ramsey and "Lunch & Learn" sessions presented by experts in topics like labor laws and quality customer service draw 40 participants per class.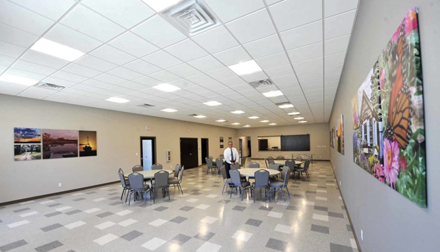 Gowrie, Iowa, population 981, also lacked meeting space until Heartland Bank moved a block west to a new headquarters and opened its Heartland Community Room with full kitchen to the public. TurnKey Associates led development of the 6,500-square-foot project for the bank, which has assets of $142 million, and has been family-owned for 116 years.
"Even before we held our grand opening we had our ambulance service hold their annual fundraiser dinner in the community room with a wonderful turnout from the city and surrounding areas. We have had several baby/wedding showers, club meetings, leadership meetings, town meetings, training meetings and more. We even have a booking for July 2020 that came in as soon as we started taking reservations for the room," noted Berna Tucker, the bank's marketing director.
Central Minnesota's Riverwood Bank in Baxter, part of the Brainerd Lakes area with a combined population of 91,000, took a playbook page from another HTG customer, HomeTown Bank in Waconia, Minn., and last year opened StoneHouse Coffee & Roastery within the bank. The bank had a chance to distinguish itself in a heavily banked area and, at the same time, drive traffic for a Nisswa retailer whose business had outgrown an old BBQ restaurant. Now the café regularly sees a midday rush of 30 to 40 people. It took some convincing because it is a new idea, but the owner isn't looking back.
"Things are going well. We are expecting increasing growth as we continue to interact with the community through the many activities we hold at the coffee shop,"  said Mike French, who co-owns the family café and roastery. A co-hosted program with the bank, plus jewelry-making, painting classes, book clubs and seminars on coffee production are offered.
"[Banks] can't operate like they did 15 or 20 years ago," said architect Raboin. "I remind them they are a sales and retail operation. The transaction is falling by the wayside. Customers are coming in for a reason." That reason is face-to-face customer service.
Kristan Becker Hoffman, executive vice president of Farmers State Bank & Trust in Jacksonville, Ill., describes the "schizophrenic nature" of today's banking conversation.
"How do we become more convenient, and at the same time, I think our society today is craving that personal service," she said. "We are constantly talking about that. How do we provide that convenience and yet provide that personal touch?"