Every bank has a CFO, but it's likely that only one has a CFnO – a chief fun officer.
That's Sarah Trapp's title at First National Bank of Syracuse, Kan., and, yes, her job is all about fun.
Fun by bringing in community groups and paying them to wash employees' cars, surprising them with free lunches, holding company-wide massage days, or recruiting them to put on costumes for skits that reinforce the company's best practices.
Yes, this is what Sarah Trapp does and, yes, it's as much fun as it sounds.
"My mom's first question was, 'Are you sure this is a real job?'" Trapp said.
That was nearly two years ago, and since then Trapp has made sure the employees at First National Bank's five branches know they're appreciated while simultaneously and entertainingly reminding them of the company's culture and best practices.
"They're an important piece to keeping us who we want to be and who we are," Trapp said of the company's standards, "but we also like to have fun."
She accomplishes this in a number of ways. Her favorite is by making movies that have had bankers dressed up in Gumby and hot dog costumes sitting around a meeting table and discussing how to be the best bank or getting a loan officer to don a chicken costume for a skit.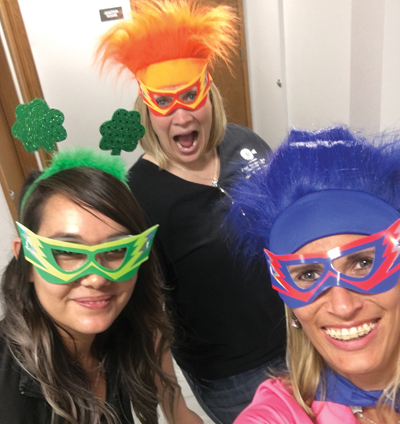 Is it hard to get her colleagues to do this?
"Not at all," Trapp laughed.
It helps that everyone at First National is into the effort.
"It's something we think is really important," said Chris Floyd, First National's co-president and CEO. "No initiative will work if you don't have buy-in from the top."
The way Floyd and the bank's leadership see it, when they look at how many waking hours employees spend with coworkers, it helps to make that time as enjoyable as possible. So that's why they brought Trapp on board.
"The title really gets people's attention," Floyd said. "We thought that we needed to call it this and make it pretty clear what the goal is."
Floyd remembers one quarterly celebration where Trapp broke the group into teams and had them perform skits around the bank's standards.
"It was just a hoot, and you're presenting information in a way you could remember forever," Floyd said.
"It's kind of amazing the things she can come up with that are really unique," Floyd added. "And she has a fun personality."
Another aspect of Trapp's job includes building on the bank's relationships with the communities it operates in via quarterly outreach events.
"It's a way for us to give back to the community," she said.
Trapp is modest about the role she's played in building on the bank's positive culture, saying it was already in place when she arrived.
"I've kind of jumped on the fun train and am enjoying every day with everyone else," she said. She also gives credit to First National's "hoopla team," which has members from each branch and brainstorms ideas for fun awards or ways to inject play into the day.
She's got big plans for the future, including major goals like producing a video that puts First National Bank over the top to win the Institute for Extraordinary Banking's national Extraordinary Bank of the Year Award, for which it was a finalist in 2017, to a rock-paper-scissors bracket during March Madness.
"When it's fun, when you love doing it and it's part of your day, you look forward to it," Trapp said.
Learn more about fun in the workplace with Sarah Trapp on our July 18 BankBeat webinar, at 12:10 p.m.. It's FREE. For more information and to save your seat, please visit the upcoming webinar tab on our homepage.