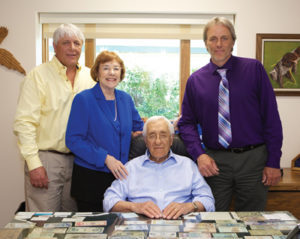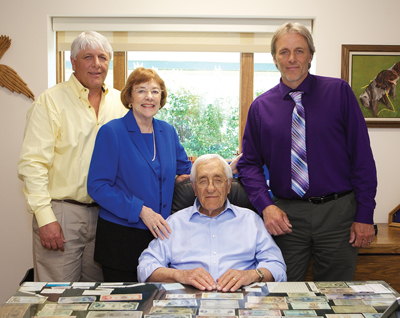 Editor's Note: In April, community banks across the country celebrate Community Banking Month. BankBeat has republished this article in collaboration with the Independent Community Bankers of Minnesota to recognize Castle Rock Bank and the Nicolai family as an outstanding example of the ways community banks and bankers serve their communities.
---
Heroes Unheralded: A family of true community bankers
Any account of the good deeds of Dan Nicolai is written without his permission. It is enough for the president and CEO of the more than 100-year-old Castle Rock Bank to know his contributions to his community; otherwise he'd prefer the world not know the good he's done. Go visit Castle Rock, though, or talk to his customers and the organizations supported by the Nicolai family over the years, and it's clear: Dan Nicolai is one of the best things to happen to Castle Rock, Minn.
Nicolai chose the trajectory for his career early on. In 1956, he was hired as a loan officer by Pete Orchard to work in the correspondent division of Stockyards Bank of South St. Paul. Nicolai took the job – even though he was offered more money by companies in other industries – because he liked Orchard's view of banking as a career of serving others.
Soon after he was hired, Nicolai's employer sent him to help temporarily at customer First State Bank of Castle Rock – the bank he renamed Castle Rock Bank in 2000. First State Bank of Castle Rock was formed in 1916 as part of a broader effort to develop Castle Rock – an unincorporated hamlet about 35 miles south of the Twin Cities – into a social, religious and economic center in rural Minnesota. The bank's founders, Percy Records and Stanley Billey, were key members of the community development movement in town. A bank's purpose, they believed, is primarily to serve the community.
Nicolai was hired permanently at First State Bank of Castle Rock in 1958. He began buying up the bank's stock that year and became majority owner by 1962. Today, the Nicolai family owns 100 percent of the bank. The family still bears the torch of the bank's founders. "A bank shall operate for the benefit of the community first, last and always," Nicolai says in "Castle Rock Bank and Castle Rock Agency at 100 years," a book written by his spouse LaVonne and published in August. Billey and Records made the exact same statement about the bank in the Northfield News nearly 100 years ago.
Giving a leg up
The stories of Dan Nicolai's customers illustrate just how much Castle Rock Bank is run for the benefit of the community – first, last and always. There is a formidable list of Castle Rock natives who received character loans from Nicolai. Some are now running thriving businesses; a few are well-known Minnesota success stories.
One such businessman is Brett Reese, managing principal and chairman of Rebound Enterprises, LLC, an investment and advisory management services firm based in nearby Northfield, Minn. Today, Reese is in a partnership that owns some 40 residential and commercial properties – including historic structures such as Hotel Winneshiek in Decorah, Iowa; Des Lux Hotel in Des Moines; and the Archer House River Inn, Northfield.
Nicolai helped Reese get his start in business when Reese was 12 years old. "I opened my first savings account at Castle Rock Bank to save for a bike when I was about 5," Reese said. "When I was 12, Dan gave me a loan for about $1,200 to buy seven Hereford cows to start my own little cow-calf operation. Dan really took a flyer on me. I ran that business until I was 18. It taught me how to keep track of cash, expenses and experience working for profit."
Later, Nicolai helped Reese by providing financing as he began investing in real estate in his early 20s. "Dan has been a mentor. I have asked him questions about business. He has supported me on many projects ranging from manufacturing to commercial real estate to banking," Reese said. "Dan will turn me down if he thinks it's not a good loan and not something I should be involved in. While he's not an adviser, I take it to heart and respect it when he tells me he won't be involved with a deal.
"What's more, Dan is a very wise and generous person," Reese added. "I learned from Dan to give back to the community through my business operation but also through time, talent, treasure and thinking. I'm a very happy and satisfied customer of over 50 years."
Joy in others' success
Helping customers succeed has been the motivation behind Nicolai's 60-year banking career. "Seeing someone succeed in their chosen venture has brought me joy in my career; it is also heartbreak to see them fail," Nicolai said.
As reported in LaVonne Nicolai's book, even Nicolai's spouse only learns of help Dan's provided to customers from others. "We are so grateful for all Dan did for us when my husband fractured his leg and was out of work for a year," a customer told her once. "When the accident happened, Dan went to the hospital and said, 'don't worry about your finances. Just get well. I know you will make your loan payments when you are healed.' Dan did not even charge us interest on our loans until my husband went back to work. We are so grateful to him."
One venture Nicolai helped shepherd into a Minnesota success story is Ames Construction, which started in Castle Rock with a loan from Nicolai. Now based in Burnsville, Minn., Ames Construction placed in the top 60 construction companies in the United States in 2015. The firm has more than 4,000 employees in six U.S. regional offices and one in Canada.
The success story began in 1962 when Richard J. "Dick" Ames decided to take his 10 years of experience in the construction business and strike out on his own. Ames borrowed $6,000 from Castle Rock Bank to buy his first piece of construction equipment, a Caterpillar D8 tractor, which he used for Richard J. Ames Excavating's first job in Castle Rock. The company was renamed Ames Construction in 1963.
"Ames Construction was started by Dan Nicolai," Ames said. "We were just one of many people who have had their lives made better by the people at Castle Rock Bank. While the business has outgrown the bank, the Ames family still banks there."
For love of the children
Although Castle Rock only has a population of 110 people, it boasts a charter school, Prairie Creek Community School. Nicolai has supported the primary school since it became a charter school in 2002, and even before that, when it was a private school. Caroline Jones, who recently retired as principal, said the support made a difference.
A significant reason for the school's conversion was the cost of tuition. When Jones became principal in 1996, tuition already was taking a toll on enrollment. The school had 75 students that year, down from 100 students five years earlier. Jones said she will never forget Nicolai's support for the school during that time. "We did not want to turn kids away because of tuition," she said. "Students who qualified could get 50 percent of tuition through financial aid. Some still could not afford the other 50 percent. That's when I would visit Dan."
Jones went to see Nicolai each year about students who couldn't afford tuition. "He often donated the majority of the remaining 50 percent of tuition of at least one, if not two, students per year," she said. "As many as 15 students were helped with tuition by Dan. I could not have gotten those kids into the school without him."
Enrollment has grown at Prairie Creek Community School since its conversation to a charter school. Even though the opportunity to support student tuition is gone, Nicolai finds other ways. Every May Day, the students have a parade through Castle Rock. When the students return, a lunch of hot dogs and ice cream awaits them courtesy of Castle Rock Bank.
"Dan would always serve everyone in the line," Jones said. "It was always so sweet to have the bank manager put ketchup on my hot dog."
A dynamic duo
Although Dan Nicolai got started in banking six years earlier than his wife did, LaVonne's impact on the bank, industry and community matched Dan's. She was the first woman to serve on the ag committees at the Independent Community Bankers of Minnesota and the Independent Community Bankers of America. She was the first woman to serve on the ICBM executive committee.  In addition, she served on several state and local government boards and committees.
The Nicolai's are longtime supporters of Dakota County non-profits, such as 360 Communities, which serves 18,000 people a year through food shelters and other programs. The Nicolais have supported a battered women's shelter called the Lewis House, with locations in Hastings and Eagan, Minn. A 360 Communities program, the Lewis House shelters some 3,000 women and children each year. It is the only domestic violence shelter in Dakota County.
In 2016, the Nicolais were honored by 360 Communities for their support of women and children in need during more than three decades. "They have donated hundreds of thousands of dollars to our organization; Dan served on the board from 1996 to 2001; he also was instrumental in helping to start the Lewis House in Hastings," said Laurie Bolin, director of development at 360 Communities. "Because donors' situations often change, it is rare to have so much support from the same donors for so long. The Nicolais have been longtime loyal and generous donors. We are very grateful for their support."
For more than two decades, Castle Rock Bank has sponsored a golf tournament to support the Lewis House. The bank, and Ames Construction, have been lead event sponsors for the last three years.
"There are women and children being abused; it is a blight on all of us, on society. Of course, we will give generously to those who are in this kind of situation. We need to do it for society, for the abused and for ourselves," said LaVonne Nicolai in a video recorded for the 360 Communities award ceremony. "We feel honored that we can give back because this is a worthy cause. These women need a safe place. Any help that my husband and I can give, we are grateful we can. It is an opportunity to give back to our community."
The award from 360 Communities shed light on just one of the many ways Dan and Lavonne Nicolai have given back over the years. "Dan Nicolai has been doing for his country and countrymen for as long as he has breathed air," one customer wrote of Nicolai. Like so many of his good deeds, how exactly Nicolai helped the author of that note will remain a secret kept between that customer and the long-time banker at Castle Rock.