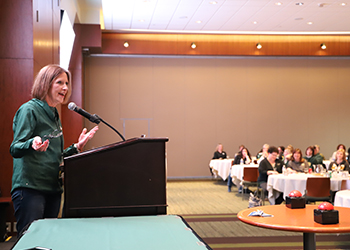 To be authentic, according to Maureen Jorgensen, is to be present. Present with yourself and present with those around you. Jorgensen, executive vice president of retail sales and service at Wausau, Wis.-based Peoples State Bank, and one of BankBeat's 2021 "Outstanding Women in Banking," holds authenticity as one of her core values; but it hasn't always been easy to practice. 
Born a middle child of six, Jorgensen entered into a world already in motion. "There was always a playmate," Jorgensen remembers fondly. But this also meant she joined a family system that had already created its rules — and found herself molding to fit them. Growing up in West Bend, Wis., she had to fight the inclination to people-please, and strove instead to live authentically. And this ability to be present is one of the reasons she has been so successful in her banking career. It goes hand in hand with another of Jorgensen's core values: Forming genuine connections with people and making a positive difference in their lives.
"Love brought me to banking," Jorgensen quipped. A student of political science as an undergrad, Jorgensen did not foresee a career in banking. But when her husband, George, was able to connect her to a teller job at Bank One while his cousin was a branch manager there, she took it gladly, staying for more than 16 years.
Early in her career, Jorgensen was mentored by Bank One colleague Rose Meagher. Jorgensen is still close with Meagher, and they connect via Zoom once a month. Meagher taught Jorgensen to "not just look at the work, but to see the meaning behind it as well."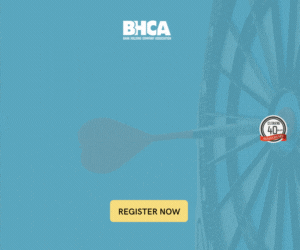 Jorgensen has gone on to be a mentor herself, both through personal connections and through teaching with the Wisconsin Bankers Association. She has played an "instrumental role in organizing and facilitating the Women in Banking Conference," according to WBA Director of Education Lori Kalscheuer. While she enjoys mentoring all kinds of people, Jorgensen admitted she "just [has] a passion for women." She recognizes that it can be intimidating as a woman to walk into a room full of "power ties." Jorgensen wants women to know that they can be fully who they are, and do not have to conform to a male-dominated culture.
In her speaking and teaching roles through the WBA, Jorgensen has a very people-centered approach. She remembers that when she first started out public speaking, she would often get nervous. But something changed — she realized that her focus needed to shift from worrying about how she came across, to viewing speaking as just another opportunity to connect. She began greeting and getting to know people before her presentations. Jorgensen recognized that the people coming into the room might be nervous too, and if she could work to calm that energy in them, and in herself, it could make way for real connection.
Jorgensen is present with people, attuned to their needs and strengths, and compassionate about where they are coming from. She utilized these skills during a stint at JPMorgan Chase, traveling to various branches and serving as a consultant. She would observe the branch for a day and with her careful attunement to people and team dynamics, be able to identify ways the team should move forward — and sometimes that meant letting go individuals who were not the best fit for the company. While this was a difficult conversation, she also remembers receiving thank you notes from people, grateful for the chance to move on to a better match. In her career, Jorgensen has also provided consulting on the cultural integration aspects of bank mergers and acquisitions. In the acquisition, Jorgensen notes that banks "sometimes forget about the human capital."
Jorgensen's passion for people is seen also in her extensive volunteer work. For more than 15 years, Jorgensen volunteered with Junior Achievement, working with students in the classroom. While her time provided the students with a positive outsider experience, Jorgensen is also grateful for the perspective the hour a week gave her, reminding her that there is so much more to life than the world of banking. Really, her goal with the volunteering was simple: She "just wanted to connect." She served on the board for a local chapter of Junior Achievement through 2020.
Jorgensen has also served on the board for the Marathon County Alcohol and Other Drug Partnership Council, and provides leadership coaching with the nonprofit Apricity, in Appleton, Wis. Jorgensen is passionate about recovery, and celebrated 33 years of being in recovery herself in September. She finds this work important as her involvement helps people who are struggling to see that "there is life on the other side." 
As someone who cares so much about relationships, it is no surprise that Jorgensen attributes her successes to the people around her. "I'm the product of the people I've worked with," Jorgensen said, and this includes her colleagues at Peoples State Bank. Jorgensen will soon close the current chapter of her career. In January, Jorgensen will launch Jorgensen Consulting Services, LLC., backed by a quarter century of bank leadership experience, and of course, her ability to be present with people and see their potential. Wherever she is, there is no doubt she will continue practicing a skill she honed in community banking: "Always just trying to make someone's day a little bit better."