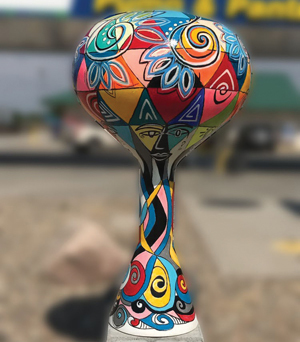 Arts sponsorship needn't break the bank. In fact, just a $500 investment each by all five locally-owned banks in York, Nebraska, added tens of thousands to the city's Firecracker Frenzy fund for its annual Fourth of July celebration. All it took was creative ingenuity, and a coming together of community, to spark a plan.
A professor at York College approached the chamber of commerce seeking a project for his Organizational Management Studies class. That jived with the chamber and visitors boards' shared interest in – and pooled resources for – creating a public art display. So the class ran with the concept and surveyed for ideas. The end concept was "towers" inspired by York's actual water tower, which is painted like a multi-colored hot air balloon — a familiar icon visible to drivers on nearby I-80.
With a $1,500 per tower cost budgeted by the class, the York County Visitors Bureau chipped in $7,500 seed money, said Madonna Mogul, executive director of the York Chamber of Commerce. The chamber solicited $500 a piece sponsorships and, with the visitors board help, picked up the remaining tab. Fifteen artists were selected; each got a stipend and several months to create their art from blank, three-foot-tall water tower replicas. Additional tabletop size towers were offered to area school children for painting. All finished pieces were treated with a clear coat donated and applied by a local auto-body shop. Following a summer art installation at businesses, parks and other city sites, the towers were auctioned at a fundraising event at the city's convention center last November.
In a dazzling display by enthusiastic art buyers, the Fireworks Frenzy fund garnered a crackling $49,850.
"It exceeded all of our expectations," Mogul said recently. There is interest in holding a repeat event in a few years, which would feature another town icon, she confirmed.
Barry Redfern, branch president of Midwest Bank in York, whose wife is an artist, noted how all the town's banks participated through sponsorships motivating buyers to purchase the towers. The highest winning bid was $5,000.
Art underwriting and display in the town's banks are common. The water tower display, Redfern said, was successful in that it "made people drive around town, and involved a lot of people." Cornerstone Bank's president was among those placing a winning bid, he noted.