When Vicki Turnquist helped start a de novo in the 1990s, she was one of only a handful of high-level female banking leaders in Minnesota. Now, more than a quarter century later, she's leveraging a lifetime of experience as a banker, leader and mentor on the board of Citizens Independent Bank in St. Louis Park, Minn. She's being honored for her service as a 2023 BankBeat "Amazing Outside Director."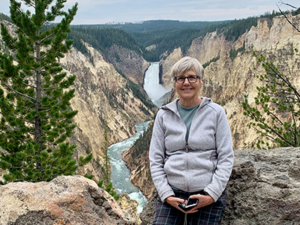 Originally from Montana, Turnquist got her start doing secretarial and frontline work with a bank in her home state before she moved to Minnesota. She helped start private banking divisions at two different area banks before both ended up being sold: The Bank of Wayzata to Norwest, where Turnquist briefly worked, and then Investor Savings Bank before it was bought by U.S. Bank in the mid 1990s. 
In the window between the latter deal's announcement and its closure, Turnquist happened to pick up a copy of The Wall Street Journal to see an article about de novos. It was an option she hadn't previously considered, but she was ready to take a stab at it. Turnquist left to launch her own venture with three other cofounders in 1996. The group's emphasis on high-touch service would unfold in downtown Minneapolis as Private Bank Minnesota. It launched with $3.5 million in funding, and had reached $56 million in assests by the end of the millennium. Turnquist and her team focused on a boutique approach to serving entrepreneurs and owners of small- and medium-sized businesses.
Like many, Private Bank Minnesota went through a rough patch during the Great Recession. The bank "bumped along" but given the post-crisis regulatory climate, it didn't seem like the bank would return to its thriving heyday, Turnquist said: "What had been my dream really became my nightmare." She had lived the gamut, from teller to owner, experiencing sales and a de novo process along the way, but by 2014 she knew the end was in sight. The $143 million bank was acquired by Grand Forks, N.D.-based Alerus Financial in June 2014. 
While Turnquist wasn't looking for another banking job, she wasn't quite ready to hang up her hat. She took a role with Minneapolis' The Bailey Group as an executive leadership coach, where she's kept a foot in the banking world through her coaching work, although she's also worked with executives in other industries.
When she was profiled by the Minneapolis-St. Paul Business Journal in 1999, Turnquist was in exclusive company: Only 15 banks at the time were helmed by a woman as president, CEO or chair, according to data from the Minnesota Bankers Association cited in the story. As a bank owner, however, she shared an even rarer distinction with the late Connie Bakken, then chair of Citizens Independent Bank and herself a 1990 "Outstanding Women in Banking" honoree. This connection helped Turnquist connect with Connie's son Brad Bakken, president and CEO of Citizens Independent since 1998, as they moved through industry events and other local business circles.
"I thought she'd be an excellent person to join our board with her expertise and her history," Brad Bakken said. "She's proven to be exactly that." Turnquist joined the board at the beginning of 2015 and has been there ever since.
He praised Turnquist's industry knowledge and experience, but also her role as a mentor, especially to CIB's female employees. The bank featured a large number of women in executive positions under Connie Bakken's leadership, and Turnquist has helped continue that tradition into the next generation. "That's been fun for me because I like doing that, and I know how tough that journey can be sometimes," Turnquist said.
Her experience as a coach and banker has played out on the CIB board more than once, with the veteran weighing in on some key personnel decisions. When the business banking lead needed to be replaced, Turnquist offered her assessment of the finalist candidates prior to the ultimate hiring decision. Her credit and investment chops have been particularly valuable, especially for the $355 million bank's ALCO committee, Bakken said.
"Between the board and the leadership consulting, I really get the opportunity to use everything I learned in that entire experience of founding the bank, leading it, and the sale of it — it's all been important," Turnquist said. "I've got a really rich kind of partial retirement." She works with executives who have gone through similar sales as well as those who are still in the thick of things, and even uses her board experience. 
"I'm helping people who are just reaching that level, where now they're interacting with the board, understanding what the board's role is and how much detail you provide [in presentations]," Turnquist said. "I sit on a board; I had my own board. I know what's key."