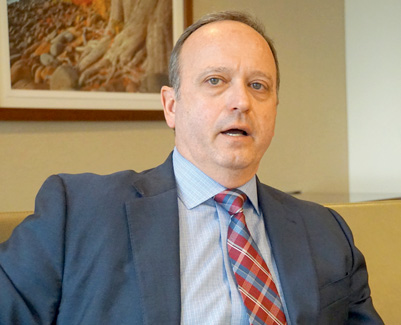 If you have purchased or sold a bank, you may have come into contact with Don Johnson, a partner at the Eide Bailly accounting and consulting firm. From his Minneapolis office, Johnson has helped many bankers across the Upper Midwest consider some of the most significant decisions a banker makes in his or her career: should we buy a bank, sell a branch, relocate a charter, create a holding company, merge with another financial institution? Now, Johnson has made his own milestone career decision: After more than three decades of service to bankers, Johnson will retire on April 30.
Johnson, 56, has little clarity about his future, other than a plan for some relaxation with his wife, Wendy, who also will retire on April 30 after a long career at Eide Bailly.
"It's young," Johnson acknowledged about his retirement age. "But no one has a crystal ball. One banker said to me recently, 'I think you still have some tread on your tires.' I smiled because I think that's right. I just don't know where I'm going to burn it."
While accounting is typically considered a profession about numbers, Johnson said he is attracted to the people side of the business. "When you sit down and talk to owners you get to talk real-life issues; numbers are important but it is a whole lot more than that," Johnson said.
His work ethic, which centers on connecting with people, originated on the farm where Johnson grew up in the northwest corner of Minnesota. Attending Minnesota State University Moorhead, he had an opportunity to intern for a summer at a Twin Cities boutique accounting firm called Charles H. Preston Co., which specialized in community banking work. The experience left a positive impression.
His first job out of college for two years was in financial markets at Cargill, but by 1987 he migrated back toward Charles H. Preston, where he began his professional devotion to community banking. Johnson's work initially consisted of traditional tax and audit. In 2000, however, the firm merged with Wolf Etter and Company, a firm that served many banks, particularly in southern Minnesota. Under the tutelage of Wolf Etter leaders Bob Etter and Linda Koerselman, Johnson began to develop the consulting side of his practice, especially bank valuations, succession planning, strategic planning and M&A work.
Johnson met Wendy at Wolf Etter, where she was a benefits expert. They were married on July 1, 2006, the same day Wolf Etter merged into Eide Bailly.
Johnson noted that having been through two mergers with his own firms, he has first-hand experience with the process he discusses so often with bankers. In every deal, he said, there are considerations. "Financial considerations are, of course, very important, but there are other factors that figure into each individual deal," Johnson explained.
His approach is to discuss the situation in an effort to obtain a clear understanding of the objectives. Then Johnson gathers the facts, compiles the data, and presents it to the client with his recommendations. Sometimes the client listens and sometimes the client goes their own way.
Brian Nicklason, for example, engaged Johnson six-and-a-half years ago when he wanted to move his charter for Woodland Bank, Remer, Minn., to Deer River, Minn. At the time, Woodland Bank had seven locations in four counties. Nicklason wanted to sell three of the branches and focus on the four remaining locations, which all were located in a single county. It was a complicated deal and represented a substantial downsizing for the bank (from $114 million in assets to $66 million). Johnson initially was skeptical, but he provided the information Nicklason needed to pull off the multifaceted transaction. Although Nicklason and his board were prepared to lose money for a few years before the reorganized business took off, Woodland Bank actually turned a profit in about a year after the charter move. Today, the bank has $102 million in assets.
"I could always call Don and talk to him about ideas," Nicklason said. "He was always willing to take the time, do the work to help me."