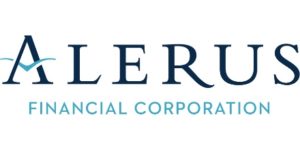 North Dakota's Alerus Financial  Corporation plans to launch an IPO later this year, potentially raising $75 million based on the registration fee. The Grand Forks company filed paperwork with the Securities and Exchange Commission on Friday. 
It applied to list its common stock on the Nasdaq Capital Market under the ticker symbol "ALRS." Previously, stock was listed on the OTC Markets Group's OTCQX Marketplace under the same symbol.
The precise number of shares to be offered and the price range for the proposed offering have not yet been determined, the company said in a release.
Founded in 1879 as Bank of Grand Forks, Alerus is led by Chair, President and CEO Randy Newman, a BankBeat Banker of the Year honoree. It entered the Twin Cities market in 2004 with its purchase of Pension Solutions, Inc., a retirement plan administration company based in Arden Hills, Minn. The bank has made a number of acquisitions since as well as experiencing organic growth and currently has offices in North Dakota, Arizona, and Minnesota. It exited the Duluth, Minn., market earlier this year, selling one branch and closing another.
Now with $2.2 billion in assets and $1.8 billion in deposits, Alerus also has $27.9 billion of assets under administration and $5.3 billion of assets under management.
Raymond James & Associates, Inc. and D.A. Davidson & Co. are serving as joint book-running managers in the proposed offering, and Piper Jaffray & Co. is serving as co-manager.