Wisconsin's Bank First will be building two new branch buildings in Oshkosh and Iola, Wis., and remodeling one current office in Waupaca, Wis.
Pending municipal approvals, Bank First will construct a new 6,800-square-foot  office on the corner of N. Koeller Street and Omro Road directly off U.S. Highway 41 in Oshkosh.
Led by executive vice president-regional president Joan Woldt, the current Oshkosh office at 101 City Center has experienced sizable growth in recent years. Total loans and deposits have grown by 26 percent and 42.5 percent, respectively, over the past five years. Construction of the new office is scheduled to begin in November and is expected to be completed by late summer 2019.
Currently located at 148 N. Main Street in Iola, Bank First will build a new 3,500-square-foot office on East State Street. Construction will begin in early 2019, expected to be completed by the end of the year.
The $1.7 billion Bank First will also renovate its existing facility in Waupaca. The building, located at 111 Jefferson Street, was constructed in 1973.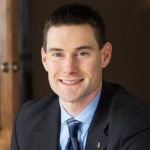 The Manitowoc-based bank also hired Joshua Neeb as senior vice president – business banking lead. In that position, he will lead  the bank's southern region as well as providing mentorship to the business bankers and support staff in this market.
Neeb has over sixteen years of experience in the banking industry, most recently serving as
market president at Associated Bank. He has a bachelor's degree in finance and accounting from Northwestern College.