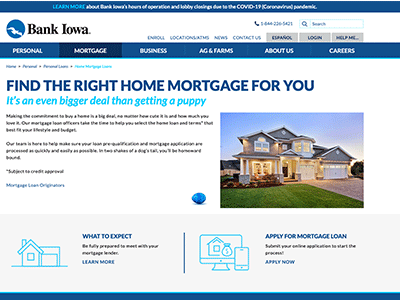 With the COVID-19 pandemic cancelling large gatherings left and right, Bank Iowa wanted to step up and fill the gap during the Easter season. The Des Moines bank had sponsored local egg hunts over the years and decided to take the event digital across its footprint this year.
Over five days beginning April 5, Bank Iowa placed an Easter egg graphic on various pages of its website, placing a new egg each day at noon. Participants looking for a hint about the egg's placement could visit Bank Iowa's Facebook page for a clue.
Once website visitors found the egg and clicked on it, they were directed to a form to fill out and submit. The bank divides its footprint into seven regions, so it picked seven winners through a drawing. It bought bouquets from local florists, which were delivered to winners over Easter weekend.
"We've had all these holidays where you'd normally expect to be with friends and family, and you really couldn't this year," said Josh Fleming, vice president of marketing at the bank. 
That's not the only way Bank Iowa has helped give back in new ways during the crisis. It shared coloring pages through Facebook for busy parents based on a children's book encouraging financial literacy which it had created last year. The bank also bought more than 12,000 eggs from a local producer who was also a customer of the bank and donated them to community members. 
The bank also recently announced the recipients of its first-ever crowdsourced community give back program, Helping Hands. The initiative asked community members to submit ideas, both big and small, to help others across 23 Iowa communities. Funds will benefit a local provider of medical quality masks, a public library offering increased summer programming for children and numerous organizations helping to feed those in need.