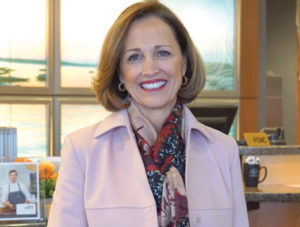 Editor's Note: Mary Kay Bates, president and CEO of Bank Midwest, Spirit Lake, Iowa, is BankBeat magazine's 2019 Banker of the Year. She is the second female banker to be recognized as a Banker of the Year since the program began in 1989. With her selection, Bank Midwest becomes the first bank to have two Banker of the Year honorees selected in different years. Bank Midwest Board Chair Steve Goodenow was the magazine's 2011 Banker of the Year. BankBeat thanks Bell Bank, Fargo, N.D., for its sponsorship of this recognition program.
Mary Kay Bates raises the standard for professional development, accountability and innovation
In 1995, Mary Kay Bates walked into the Okoboji, Iowa, branch of Bank Midwest with a portfolio full of "B" credits. She had been working as a mortgage lender with Stockdale Bank, one of the last in a strange breed of private banks that took uninsured deposits and originated mortgages for high-risk customers. Regulators weren't pleased to have private banks operating outside the system, so on its way to extinction Stockdale Bank sold its deposits and mortgages to Bank Midwest, which was why Bates was in that day, fully prepared to explain every relevant detail to the portfolio's new owners.
Bates, a native of northwest Iowa's Lakes Region, had admired Jerry Stockdale's lending philosophy. Any loan you do starts with sitting eye-to-eye with your customer and developing a relationship, he had told her. Go into their homes, he said; be sure this is a customer you trust. "It was the fundamentals of lending," explained Bates, president and CEO of Bank Midwest, based in Spirit Lake, Iowa, and BankBeat's 2019 Banker of the Year.
Bates appreciated the opportunity to work with Stockdale because she admired what he was doing; it felt innovative to help people on the fringes. Innovation in customer service is a philosophy she embraces and promotes throughout the $911 million Bank Midwest.  
After Bates finished explaining the mortgages to Curt Johnson and Steve Goodenow, the new blood at the bank in those days, she walked across the parking lot pondering what might come next. Goodenow followed her outside and before she had a chance to turn the key in her ignition, he'd convinced her to come to work for him.
"It's not the way HR does it today!" she laughed.
She would know. She built the Bank Midwest human resources department from the ground up, instilling an ownership culture amongst employees (evidenced by its ESOP, which she set up); and she continues to hone the people skills that are vital to success in relationship banking.
Innovation as institutional value
Bankers don't much sit eye-to-eye with customers these days. At Bank Midwest, with 11 branches in Iowa, Minnesota and South Dakota, roughly 80 percent of customer transactions occur without an in-office visit. Bates calls what's happening in the industry because of technology "quantum change."
At a day-long employee rally held on Veteran's Day, which included inspirational and  educational sessions (and fun, she points out), Bates told her team there will be no going back. "How often do we pull a map out of the glovebox?"
Imagining the future is the hardest part of her job, she said. There's a lot to think about strategically and "it's changing so quickly for all of us." The challenge is to stay focused on innovation without leaving behind the things a company values. Top of the list for Bates is "the people."
Bryan Wilken, who has been chief information officer since 2014 and recently earned Bates' former title of chief operating officer, worked closely with Bates over the past few years to guide an overhaul to the bank's core technology. He called it a major decision for the bank. "You can't change your core today without the customer knowing about it," he said. "So you have to train employees because they are interacting with the customer."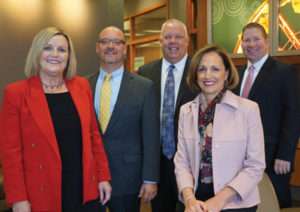 As bank leadership considered the one- to two-year disruption that would occur as it upgraded its core technology, along with the learning curve and consequent stress to longtime employees, Bates instituted a phased-retirement program to incentivize the people whom she predicted would have the greatest difficulty adapting. Fifteen percent of the bank's workforce opted in.
The popularity of the plan solved one problem but created a new one: The bank's 17-year-old ESOP would need to pay out benefits to 30 people over a three-year period. It's been a drain on the plan's liquidity.
"The ESOP is part of our culture, for sure," said Steve Goodenow, board chair. Goodenow assures the ESOP will remain a tool employees can utilize for retirement, but said it will shrink as a result of the spate of retirements.
Setting aside the consequence to the ESOP, the core conversion (to Finastra from Jack Henry) gave Bank Midwest the ability to choose fintech partnerships without the worry of "will this work with our core," Wilken explained. Some of the new products the bank has unveiled include allowing customers to take a picture of a bill to have a remittance sent, an enhanced mobile platform, ability to get e-signatures to some areas of the bank, and to utilize the popular digital payment apps such as Apple Pay. Wilkins said fewer than 10 percent of the customers utilize payment apps, but use increases every year.
Wilkins, himself a digital native who served as the bank's first IT professional, appreciates how Bates embraces the challenges of delivering the technology customers expect while respecting the learning curve. The bank's adoption of Interactive Teller Machines is an example. It introduced ITMs in Sioux Falls, a de novo branch and its newest expansion, situated with loan diversification in mind.
"People tend to gravitate toward people," Bates said. Because Sioux Falls had never had live tellers in its drive-thru, it was the perfect test location for an ITM and the bank learned acceptance came easily. But when the bank added an ITM to a branch where customers had long enjoyed face-to-face interactions, ITM usage was low and complaints soared. Customer training became the necessary ingredient for ITM acceptance. Now, before the bank installs an ITM at a branch, it brings a temporary one into the lobby for a few months so customers and tellers can stand side-by-side while they learn the technology. The bank's goal is to ensure 95 percent of a customer's transactional needs can be filled by the ITM, which may allow the bank to extend banking hours in some of its smaller markets.
ITMs, like mobile banking or Apple Pay, aren't cutting edge tools but baseline needs for a community bank to stay relevant, Wilkins said. The differentiator is still the interactions between customer and banker even when, or especially when, they are facilitated through technology.
At that employee rally, Bates displayed a map of the United States with red dots indicating where the bank's deposit, lending, insurance, investment or trust customers were located. Color spread across all 50 states. Goodenow, who represents fifth-generation family ownership, said he was amazed to see the bank's reach illustrated in such a way. "We really are just a bunch of little country banks…but the kids who grew up and left have stayed with us," he said. "It shows the power of the relationship."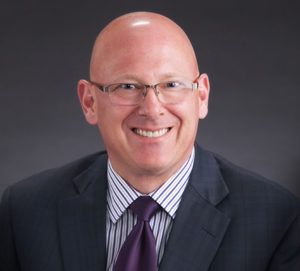 Sentimentality aside, Goodenow recognized years ago that community banks, in order to survive, need more than the ability to deliver nifty tech tools; they need to innovate structurally and they need a culture that is foundationally customer-focused. That's one of the reasons Bates, the master communicator, was chosen to succeed him as president and CEO. "I knew she'd be better than me," he said. "She exemplifies how to make sure the boss is happy, and I'm not talking about me."  
Learning who's boss
Bates learned about customer service from her widowed grandmother Coila Titterington, the proprietor of Vern and Coila's supper club, which was situated at Pocahontas Point on West Okoboji Lake from about 1946 to 1990. Bates' parents worked alongside their family matriarch, as did she and her three siblings. One doesn't grow up in the restaurant business without forging a work ethic, Bates explained. "Grandma worked seven days a week and greeted every customer who came through the door by name."
In 1983, Bates was four years into an engineering program at Iowa State, but losing interest fast. She rejiggered her academic plan, intending to transfer to the University of Iowa where she could parlay all those courses in math, chemistry and physics into a teaching career. But it was still summer and Vern and Coila's was hopping. Steve Barger, head of marketing for Des Moines-based Hawkeye Bank, was in Okoboji for a week's worth of meetings and in Vern and Coila's every night for supper.
When you make the customer the center of everything you do, they take note. Barger certainly did, and he convinced Bates to move to Des Moines and go to work for Hawkeye Bank. Two years later, Barger left for Lehman Brothers and Bates moved to the holding company and took on many of his projects, gaining increasing responsibility. "Banks were just starting to think differently about themselves," Bates recalled. "I always worked for progressive organizations. It's helped me."
Leaving school without a completed degree has been a regret but not an obstacle. "I think because I didn't finish, I worked that much harder," said Bates, a self-described continual learner. Reading and learning help people "think differently about what we do so we can be innovative in our jobs," she said. It's a message she drives home to employees continually.
And, it resonates with Suzi Kalsow, vice president of learning and development, who Bates recruited away from Mount Marty College, based in Yankton, S.D. Kalsow, who has a doctorate in education administration, oversees the company's Fierce initiative; she trains employees at all levels of the bank to communicate authentically, to be gracious with one another (and their customers), and to own up to their mistakes. When Bates wove the Fierce principles into the company's values, "I thought, boom! She just validated the time, money and energy we are putting into this," Kalsow said.
Kalsow said the ongoing professional development at Bank Midwest, focused primarily on communications, is ambitious for a company of its size and demonstrates how leaders value learning. It is by design that the bank — where the median age of its 200-plus employees is dropping — treats everyone as if they were already a leader, Kalsow said. "It's philosophical and designed to flatten the organization."
It also raises the bar across the organization. "I have high expectations of people and I hope they have high expectations of themselves," Bates said.
Kalsow said Bates is willing to have the tough conversations that are sometimes required of leaders. "She's firm but she's fair," Kalsow said. With a workforce that's 70 percent female, Kalsow believes Bates is providing the positive role model women in the organization need.
The 53-year-old Goodenow likes the direction Bates is taking. "We are still transitioning, but 'old-school' Bank Midwest is mostly gone," he said. Goodenow, who led the bank for more than 15 years, said he didn't like being out front but Bates pushed him to do it. "With Mary Kay, it's about who she is. She's self-aware and authentic, and she connects with people so well," he said. "And she's smart when it comes to banking."
Bates views the educational piece as necessary to this new era of banking, where expertise is the value proposition — the thing that gives people a reason to set down their phones and meet their banker at eye level. "When you need advice," she said, "you go to people you trust. You seek the expertise."
The price of transformation
The portfolio mix at Bank Midwest is slowly modulating. Its roots in ag reach back to the horse-and-buggy era. Today, ag accounts for 42 percent of its loan mix, with another 33 percent in commercial, 16 percent tied to One Place Capital (the Des Moines-based medical equipment finance division it launched in 2009), with the remaining a mix of consumer and mortgage loans. Of its $237 million commercial portfolio, 30 percent, or $71.1 million can be credited to expansion in Sioux Falls. With ag in a four-year slump, the move into South Dakota's fast-growing urban center was prescient.
Bank Midwest has been in New Ulm, Minn., since 2005 when it acquired a TCF branch; now it has a new building and a new community bank president, Shannon Hillesheim, a New Ulm native who has driven 32 percent loan growth and 19 percent deposit growth through the third quarter of 2018. People-driven results.  
The bank also has a new building in Jackson, Minn., and has recently finished a remodel in Windom, Minn. But perhaps its most significant investment, people notwithstanding, came in 2010 when it consolidated processes into an operations center situated in Fairmont, Minn. The center houses 52 employees now and it gives the bank — which is mere steps away from crossing the $1 billion threshold — the capacity to become a $2 billion bank without breaking a sweat.
"We chose to make those investments for the long-term growth of the organization," said Tom Lytle, chief financial/chief risk officer. The impact of all that investing turns up in diminished returns on assets and equity (1.12 percent and 11.33 percent respectively, as of third quarter 2018). And, given the changes in how people conduct their banking, even Bates admits the bank probably has more square footage than it currently needs, and some of that space might need to be repurposed. Yet she still believes branches will stay relevant as places of counsel; she expects staff to be the locus of financing expertise. Using the popular Apple store as a model, Bates said: "The greatest thing that can happen is to have the wisdom here" for customers.
It's a matter of maintaining relevance, Bates said, tossing in the terms survival and growth. To that end, on Jan. 1, 2018, Bank Midwest converted to a C corp structure from a sub-S bank. Lytle believes the company has a better opportunity to grow as a C corp given the change to the tax law implemented in late 2017 and the move sends a message that Bank Midwest, of which roughly 70 percent is owned by the Goodenow family, is in business to stay.
Long-term viability as an independent community bank has long been Goodenow's goal and it was a factor when he, at age 50, chose to step aside and give Bates the opportunity to lead.
"He hadn't been talking about stepping down," Bates said about the day in 2015 when he first told her she should become the next president and CEO. She tried to talk him out of it.
"I really felt like she was the right person," Goodenow said. At the time, his sister Sara was battling cancer and he wanted more family time, less family business. Sara lost her battle in January 2017 and Goodenow, whose parents are still living, understood that some of his responsibilities could be handed off while others could not. "This bank needed to be under professional management," he said. "The last thing I want is for emotion to spur the sale of the bank because something happened to Steve."
Bates asked for a slow transition, feeling that she had more to learn. Kalsow said her response could have been lifted from the pages of "The Confidence Code," the book by Claire Shipman and Katty Kay that argues women are reluctant to throw their names into contention for a job unless they have 100 percent of the qualifications met. Kalsow told Bates that whatever she didn't know she'd learn along the way. Goodenow told her the same.
Bates became president in January 2016 and said by the time she became CEO in December 2017 she was 100 percent ready.
"She is growing," Goodenow said. "I can see it in her presentations to the board and in our conversations about the bank. She's a good banker."
Goodenow promised to get out of her way so there'd be no question about who was in charge. "He's been supportive," Bates said. "He hasn't said 'don't call me.'"
In certain discussions with her leadership team, Bates said someone might ask, "what do you think Steve will say?" She tells them it doesn't matter because "we're running the bank now." That's how much he's empowered her.
Goodenow said he and Bates are in agreement 90 percent of the time. "It's good to have differences," he said. "It's good to have people who aren't afraid to go against Steve."
Innovation as process
Back to that employee rally in November: Bates assembled a panel of five individuals from inside the company, people who had innovated in their jobs. Their presentation wasn't about a fancy gadget they'd dreamed up but simply about how they'd tweaked a process in order to be more efficient, to better serve the customer, or perhaps make that customer feel better about their bank. It was an exercise in driving home the "why," which undergirds every individual at every level. "These are the things we all need to be doing as an industry," Goodenow said.
Her skill as a community banker has caught attention. In 2018, Bates was invited to join the board of QCR Holdings, a $4.8 billion publicly-held, multi-bank holding company based in Moline, Ill. Douglas Hultquist, the company's soon-to-retire president and CEO, said whenever there is a strategic issue on the table, Bates is asked to weigh in. "She has highly-refined banking skills and good business sense," he said.
Her strategic vision is likewise valued at Lakes Regional Healthcare in Spirit Lake, where Bates has served as a publicly-elected board member since 2010.
Characteristically, Bates won't let this be about her. It's not in her nature. Ultimately the success of a leader is measured by the success of her followers. When Bates learned that all the people who contributed to this story had said, "she's got it," she was quick to correct. "No, this team has it," she said. "There is not a person in this company who is not committed to what we do."