The 5,256 commercial banks and savings institutions insured by the FDIC made $57.4 billion in aggregate net income in third quarter 2019, down $4.5 billion or 7.3 percent from a year ago.
That drop was caused by higher noninterest expense and loan-loss provisions and realized securities losses, the FDIC said.
"The banking industry reported positive results this quarter, despite nonrecurring events at three large institutions that affected quarterly net income," said FDIC Chair Jelena McWilliams.  "Overall, the banking industry reported strong loan growth, and the number of 'problem banks' remained low. Community banks also reported another positive quarter. Net income at community banks improved due to higher net operating revenue, and the annual rate of loan growth at community banks exceeded the overall industry."
The 4,825 institutions the FDIC tags as community banks reported a 7.2 percent increase in net income for the quarter, making $6.9 billion, up $466 million from a year ago. Growth in net interest income (up 4 percent to $19 billion), noninterest income (up 16.4 percent to $5.1 billion), and gains on securities sales (up 675.1 percent to $164.5 million) were responsible.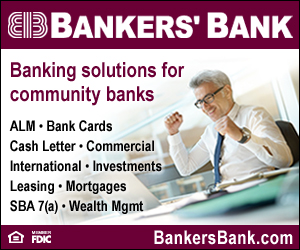 Revenue growth in those areas offset increases in noninterest expense (up 5.8 percent to $15.2 billion), provision expense (up 24.9 percent to $754 million), and income tax expense (up 12 percent to $1.4 billion).
Pretax return on assets rose 3 basis points to 1.51 percent for those community banks, marking the highest quarterly pretax return on assets reported by community banks since third quarter 2006. Net interest margin was 3.69 percent for the quarter, down from 3.74 percent a year prior.
Overall, national average ROA declined from 1.41 percent in third quarter 2018 to 1.25 percent, and average NIM declined by 10 basis points from a year ago to 3.35 percent.
On the positive side, total loan and lease balances increased by $99.5 billion (1 percent) from the previous quarter, with growth driven by consumer loans, which includes credit cards (up 1.8 percent to $31.3 billion) and residential mortgage loans (up 1 percent to $22 billion).
"The FDIC's report shows that our nation's banks remain key drivers of the U.S. economy with nearly $100 billion in new loans generated in the third quarter," said James Chessen, chief economist for the American Bankers Association. 
Growth in consumer and real estate lending offset slowing business loan demand, although the latter remained strong at over 6 percent, he said. Asset quality and deposit growth also continued to grow, and "nearly all banks – 99.7 percent – are well capitalized, with the industry adding $104 billion to its $2.1 trillion capital base over the year," Chessen said.
During the third quarter, four new banks opened, 46 institutions were absorbed by mergers and no banks failed. The number of problem banks decreased by one, to 55.