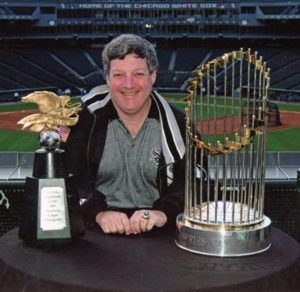 Editor's note: Howard Jaffe, president and chief operating officer of Inland Bancorp, Inc., Oak Brook, Ill., shared this story during a presentation at the American Bankers Association's National Conference for Community Bankers in February.
This story starts with my grandfather. He emigrated from Russia through Ellis Island when he was 3 years old. Upon settling in Chicago, he went to school and raised his family on Chicago's south side. There, a tradition was born.
Like many traditions, he passed his onto my father, who ultimately passed it along to me. Many family traditions include rituals that we all can partake in and set the stage for something we value. Our tradition holds to this very day. This tradition is centered around the love of baseball; specifically, the Chicago White Sox. My first game was in 1957 when I was just 4 years old. I remember a picture taken of me on a visit to the ballpark in 1959, a special year since the White Sox went to the World Series.
My grandfather was the White Sox team dentist. That provided a 6-year-old boy some very unique opportunities and access to players on the team, including two players currently in the Hall of Fame: Early Wynn and Luis Aparicio, along with Billy Pierce.
When I was 9 in 1962, my dad pulled me out of school to attend opening day. Opening day was a celebration. A fresh start to a new season. We were in first place. I haven't missed an opening day game since.
My last opening day in Comiskey Park was 1990, when its replacement was being built. Alas, after almost losing the Sox to relocation in Florida, a new ballpark was built and the ballpark from my childhood was torn down. Bricks and seats from the old place are now in my home. At least the team stayed in Chicago and I was not left with only rooting for the Cubs.
It's not just my wife Bev and my girls who were destined to be Sox fans: my dog is a fan too. Dog Day is an annual event at the park, where our dog learned she can get a hot dog from the concession stand.
As you can imagine, over the years I have befriended many employees at the ball club and no doubt to anyone who knows me that would include the beer vendors. For many opening days I would pay "Bob" to be our exclusive provider of beverages for our section. Can you remember when beer was only $4.75 at the ballpark?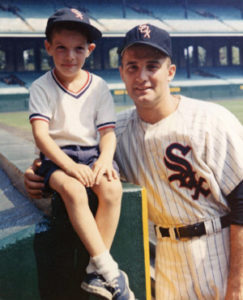 Bev has qualified for sainthood on many occasions. The scoreboard at the ballpark honored us on our 30th wedding anniversary with an announcement. I bought her a fancy bratwurst dinner and we celebrated with 30,000 friends.
Finally in 2005, 46 years after the last time, the White Sox made it to the World Series. After losing it the last time when I was 6, it was an event not to be missed. Based on the team's current performance that might have been my team's last opportunity. But guess what? They won. The first time since 1917 – 88 years. It was quite a celebration in Chicago.