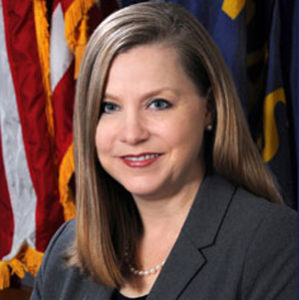 Kansas banking regulator Michelle Bowman has been confirmed to a seat on the Federal Reserve Board of Governors.
With the Senate confirmation, Bowman fills one of three vacancies on the board, bringing the total members to five for the first time in more than a year. Remaining nominees Nellie Liang, a former Fed staff economist, and Carnegie Mellon University professor Marvin Goodfriend, still await confirmation.
Bowman's presence satisfies a clause added to the Federal Reserve Act in 2015 requiring the Fed's leadership include at least one governor with community banking experience.
Her nomination received bipartisan support in the Senate Banking Committee in June, a strong signal that it would receive ample backing from Democrats in the full Senate. Earlier this week, senators passed a motion to limit debate on her nomination.
Bowman is a fifth-generation banker who has served as Kansas' State Banking Commissioner since January 2017. Her family owns the $181 million Farmers & Drovers Bank, Council Grove, Kan., where she worked as vice president starting in 2010.
Prior to that, she worked for former Kansas Senator Bob Dole in Washington, D.C., and as a counsel to the U.S. House Committee on Transportation and Infrastructure and Committee on Government Reform and Oversight. She also spent time as an executive at the Federal Emergency Management Agency as Director of Congressional and Intergovernmental Affairs and, upon its establishment, at the Department of Homeland Security as Deputy Assistant Secretary and Policy Advisor to Secretary Tom Ridge.
She has law degree from the Washburn University School of Law, Topeka, Lan., and a Bachelor of Science degree in advertising and journalism from the University of Kansas, Lawrence.