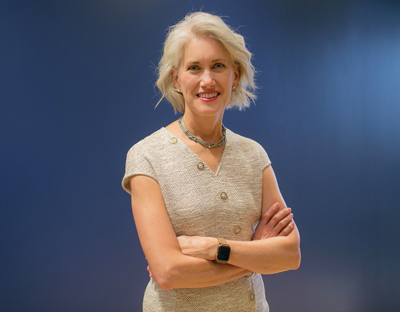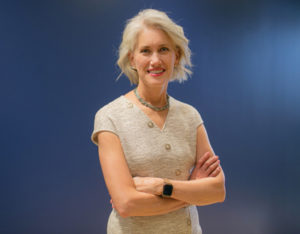 Even when the choreography for change is crafted with precision, there are hiccups. Such was the case May 6 as roughly 100 Bremer Bank employees gathered on a downtown St. Paul sidewalk to watch Bremer Financial Corp.'s President and CEO Jeanne Crain and St. Paul Mayor Melvin Carter pull down the bank's old logo to reveal its new one. Even traffic was stopped for the occasion. But the banner caught the edge of the new sign and the old logo hung on just a bit longer than anticipated. Tradition can be so stubborn. With laughter and a bit more tugging, the big reveal was back on track; after, bankers and passersby were invited into the building's lobby where Crain gave a speech and the Mayor proclaimed it Bremer Bank Day.
Bremer's new brand is the culmination of a two-year dive into self-reflection, said Crain. The process started as Bremer explored how to move into the future, asking, "What's the right strategy? What's the right focus for our team? And, how do we invest our capital wisely?" Crain explained.
Important questions all, given that margin compression in the industry "is very real," Crain said. Strategies that worked for banks in the last seven decades, she said, won't work any longer. "Non-bank competition has entered the marketplace in a huge way."
Questions of strategy are ones every banker on the planet wrestles, and "brand" is an abstract that accounts for customer expectations and feelings that may (or may not) deliver the answers. Bremer is betting its new brand will deliver, and Crain, an industry veteran who self-describes as "resilient," is intent on being the leader Bremer needs to keep the vessel clipping along as the industry undergoes a sea change.
Tech 'n' Talk
First and foremost, Bremer is trying to understand and serve its customers. "You have to pick your niche segments, especially as a mid-size bank," said Crain, who has been in the top job at Bremer since 2016. The brand work has helped the bank focus on its differentiating characteristics, she said.
The bank, which operates in Minnesota, North Dakota and Wisconsin, has a tap root in agriculture. To think of ag as slumping is to understate the impact of the tough decisions farmers are making this year. Farmers are increasingly price sensitive and having to restructure their debt, including those farmers who bank at the $12 billion Bremer, where ag comprises roughly 16 percent of the balance sheet. The two years of brand work, Crain said, forced Bremer to better understand its ag customers, by segment and by geography, to uncover the specific needs of each "type" of farmer as it relates to financial services and operational efficiency. "For us, it's bringing back [knowledge] and really understanding those challenges," Crain said.
The company at a glance
The Otto Bremer Trust, a foundation that performs grantmaking, hybrid investments and portfolio management, owns 92 percent of Bremer Financial Corp., the holding company for Bremer Bank, N.A.; the remaining 8 percent of bank ownership is held by employees through an ESOP. Bremer's 2,000 employees serve communities throughout Minnesota, North Dakota and Wisconsin. At year-end 2018, Bremer had $12.12 billion in assets and earned $149 million in net income. Its ROA was 1.24 percent; its ROE was 13.22 percent.
Its efforts include listening, learning and working with Silicon Valley-based Plug and Play, a fintech (and foodtech) accelerator, to develop customer-centric solutions. In all sectors, but especially in ag, "what we can't do is bring something back without the understanding that it's going to be something needed by our end customer," Crain said. "So we have customers involved in those conversations." Customers confer with bankers who bring institutional knowledge and newer employees who bring digital expertise. In other words, it's a customer-involved internal process of research and development, the goal being the bank develops its own solutions based on its research.
Bremer is active in the full spectrum of commercial lending, from small businesses to large commercial real estate projects. In the latter arena, it's lending capacity is a boon. But to grow and compete on the commercial side, the bank recently automated the lending process through a partnership with Numerated, a fintech startup. The end-to-end lending solution for its commercial and ag customers is called Real-time Lending. "You can apply, determine your status and get funded in a very short period of time, same day frankly, within minutes," Crain explained.
This is where brand links customer expectations to its products and services. And while the bank is hoping to amp its loan volume, it won't do so at the cost of the interpersonal. "We look at relationships being first and foremost, and technology enhances, doesn't replace the relationships," Crain said.
Additionally, Bremer hired computer engineer Elwin Loomis as its head of digital. Loomis was former senior director of the "store of the future" at Target Corporation, and part of the development team for Target Cartwheel, the program that helped consumers feel good about spending money by spinning it as saving money. Loomis is charged with helping the bank reconsider its approach to retail banking in an era where transactions have increasingly gone mobile. Preserving those relationships is especially challenging when customers have fewer reasons to come into the bank.
"We're not there to tick off the number of products we're selling," Crain emphasized. "We're there to make sure that business owners have what they need to be efficient and effective in running their business." On this, Crain speaks with credibility.
Commercial lender to her core
Crain's first job in banking after graduating from the University of North Dakota (class of '82) was in commercial lending at the Grand Forks, N.D., branch of First Bank. But even before that, she spent eight months as an intern working in loan collections. That experience, she said, was instructive. "I'm looking at the financial statements and wondering 'why did we make this loan?'" Lending to unqualified credits is the worst thing a banker can do, she said. "You learn about doing the right thing for the customer and that has stuck with me to this day."
Treating customers right might be a lesson traceable even further back in time, to Rugby, N.D., Crain's hometown. Rugby (pop. 2,700) bills itself as the geographic center of the North American continent. Every town needs context.
In the year she was born, Crain's father opened Heilman's Jewelry, where each of John and Harriet Heilman's children — and there were eight of them — worked during their teen years. While the watchmaker/small-business owner focused on his precision craft, the Heilman children interacted with customers, kept up inventory, and performed any task deemed necessary. "I would totally credit my parents for the values that were instilled in me," Crain said. "Growing up in a big family and especially with a dad who was a business owner, I think had a pretty big influence on me in terms of the work I chose to do."
A banker needs to "roll up your sleeves and try to do the best job you can to help the customer out," Crain said. But that doesn't mean "burdening them" with a debt they cannot repay, she added. Sitting across the desk from business owners in Grand Forks, Crain earned the reputation as "the turn-down queen," she said.
"You would hear what they were trying to do, the employees they were trying to bring on, what impact they were trying to make not only for their families but for the people who worked for them and the community," Crain said. That was the work that she was, and still is, passionate about, although now the credit policies that guide banker decision-making are digitized.
After about five years in Grand Forks, Crain found a job with the private banking group of Bank One in Milwaukee, which allowed her to pursue an MBA in the evenings at Marquette University. Her boss was Doug Hile, recently retired CEO of KleinBank, Chaska, Minn., which was acquired in 2018 by Evanston, Ind.-based Old National. Crain said Hile, "always saw more in me than I saw in myself."
By the time Crain had earned her MBA, Hile had moved to the Twin Cities to join Marquette Bank Minneapolis; six months later, Hile believed Crain was ready for her next opportunity so he offered her a position there too. Crain was later part of a group that started Marquette Capital Bank, where she eventually became president and CEO. Between Marquette and Bremer, as the result of a string of mergers, Crain worked at Excel Bank, M&I and BMO.
"Being at Bremer has been just the ultimate place to land because I love the business and I think I've been resilient through some challenging times," Crain said.
Otto is out
Bremer's new white and blue logo utilizes a minimalist approach, somewhat Scandinavian with its clean lines; even the short bar that hovers over the "B" of Bremer hints at Nordic sensibility. That "bar" symbolizes the bank's commitment to going "above and beyond," explained Crain to the St. Paul Pioneer Press in an article that appeared on the same day as the big reveal.
The bar resembles a macron, the diacritical mark that denotes length when placed over a vowel. With the bank commemorating its 75th year as a St. Paul-based institution, the bar might be a nod to its longevity even as Crain said they want to move "forward in a fast-changing world." The bar is also used in the bank's icon, which depicts a single "B" inside of a darker blue circle.
"The change is purposeful," Crain said. "We are challenging ourselves to stay relevant for our customers in every way and that means meeting their needs whenever and wherever they want."  
Longtime customers might wonder about the soaring eagle, affectionately dubbed "Otto" after the bank's founder that has been a symbol for the bank since 1982. Otto is out.
Bremer utilized two separate firms during the two years of lead-up to its rebranding announcement. One agency led the internal reflection designed to garner understanding of the company and how employees brought its brand to life; the other built its advertising and marketing campaign. "We're really focused on trying to be more visible," Crain said.
The bank's new logo was studied by focus groups, who deemed it "modern in a positive way," said Clarise Tushie-Lessard, vice president, communications.
"The logo remains grounded in our history while looking to our future," she said. "Our priorities in shaping the new logo were to ensure it was relevant, credible, sustainable and distinct – one that is not easily replicated. We believe we have hit the mark."
That modernity was important to Bremer, Crain said.
The bank's renewed focus on commercial and agricultural customers includes a revitalized website tailored "to serve customer segments in ways that are convenient and valuable," Crain said.
The bank also is responding to changing customer preferences as it assesses physical space. A cashless branch in southwest Minneapolis is being tested. It's all about enhancing the customer relationship through digital.
The bank's 2,000 employees were given advance looks at the logo and website and encouraged to "absorb the information, dive in, ask questions, and learn about the components that went into the development of the brand," Crain said.
"You hear a lot about an agile environment and that's what we're really doing different today," Crain said. "We are challenging ourselves to stay relevant for our customers in every way and that means meeting their needs whenever and wherever they want."