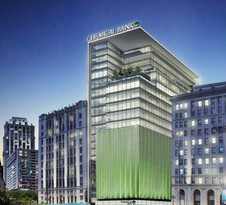 Regional powerhouse Chemical Financial is relocating its headquarters within the state of Michigan, moving it to Detroit from Midland.
The $20.3 billion company moved headquarters on July 25 to its 333 Fort Street office, which will be expanded to accommodate the increased workload. Plans are underway to move into a new 20-story building that will be built at the corner of Woodward Avenue and Elizabeth Street. After the move to that permanent location, Chemical said it would add 500 employees to Detroit's workforce.
The relocation comes in the wake of Chemical's 2016 acquisition of Talmer Bank & Trust, which added $7.6 billion in assets and 109 branches to the then-$9.2 billion Chemical's Midwest empire. The move gave Chemical a foothold in northern Ohio as well.
"Detroit is the financial hub for advanced manufacturing and mobility as well as a growing nexus for young entrepreneurs looking to leverage the city's rich history of innovation and hard work, and Chemical Bank is excited to help them build our economy and invest in Michigan's future," said Thomas Shafer, president and CEO of Chemical Bank. "With our legacy markets as our foundation, Chemical Bank's continued expansion into the Detroit market establishes us as a leading financial institution in the Midwest."
News of the headquarters move coincides with the announcement from the City of Detroit that it has chosen Chemical as its new primary banking partner for managing its operating deposit accounts, with expected balances of up to $500 million in deposits.
The bank will keep its current Midland workforce of more than 500 and its presence in that community as it expands into Detroit. Midland will continue to be the home of its corporate operations center.
"Chemical Bank is a great banking partner for the city's finances and a great community partner, now headquartered in the City of Detroit," said Mayor Mike Duggan. "I am very excited to welcome Detroit's new hometown bank."