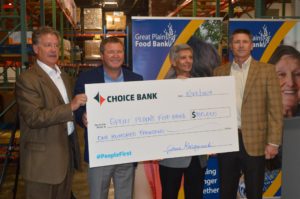 Fargo-based Choice Financial Group has made a five-year funding commitment to the Great Plains Food Bank that will provide more than 300,000 meals in North Dakota and Minnesota.
The bank has committed to giving $20,000 per year for five years to Great Plains Food Bank. Additionally, the bank donated 2,346 pounds of food collected through drives at its 22 locations in North Dakota and Minnesota. This equates to 301,955 meals for children, seniors and families struggling with food insecurity, the food bank said.
"This exciting gift will make a tremendous impact in our work to end hunger," Great Plains Food Bank CEO Steve Sellent said. "More than 97,000 people in North Dakota and Clay County who don't always know where their next meal is coming from rely on our services to meet their nutritional needs. We are very grateful to Choice and their customers for not only this significant commitment toward our vision of a hunger-free region, but for all that they do to support our work and those that we serve."
Founded in 1983, the Fargo-based Great Plains Food Bank distributes over 14 million pounds of food to more than 300 charitable feeding programs operating in over 110 communities across North Dakota and Clay County, Minn.
"We're incredibly proud to support the Great Plains Food Bank and their mission to end hunger in North Dakota," said Gerald Brossart, senior director of community relations and business development at the $2.1 billion Choice. "Their dedication to serving our communities is incomparable and resonates deeply with our own passion for putting people first."