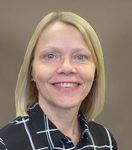 Citizens Bank & Trust Co., Hutchinson, Minn., announced several promotions recently.
Ben Beckman was hired as vice president of commercial and ag lending. He has a degree in finance and an MBA from St. Cloud State University, St. Cloud, Minn.
Beckman is currently the treasurer of the Dassel Development Corporation and has also served as board chair for the Glencoe Area Chamber of Commerce.
Carleen Hamilton was promoted to finance officer. Hamilton joined the bank in 1978 and has served in various positions, most recently as accounting manager. Hamilton's other duties include security officer and personnel officer.
Mandy Baldry was promoted to assistant vice president. Baldry is a graduate of Ridgewater College, Willmar, Minn. Baldry joined Citizens Bank as a teller in 1999, and was promoted to consumer loan administrator assistant in 2001, consumer loan representative in 2006, personal banking officer in 2011, and commercial loan officer/credit analyst in 2013. She also serves as a member of the bank's marketing and credit committee.                               
Deb Froemming was promoted to personal banking officer. Froemming has been employed with Citizens Bank & Trust Co. for 18 years. She began her employment as a teller and most recently as a personal banking representative.