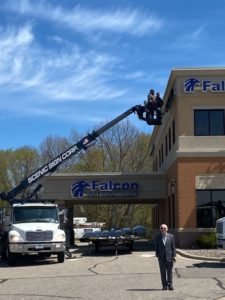 Foley, Minn.-based Falcon National Bank finalized its acquisition of Eagle Community Bank, Maple Grove, Minn., at the end of last week.
The one-branch Eagle Community had $36 million in assets, $28 million in net loans and leases and $29 million in deposits. It is the sixth branch of Falcon National, which also has offices in Foley, St. Cloud, Ham Lake, Isanti and Richmond, Minn.
"This is really exciting news", says John Herges, Falcon National Bank CEO. "Maple Grove is a growing community, and we are perfectly positioned to deliver a unique approach to serving small businesses and consumers-alike in that market."
Jason Erdman, former president of Eagle Community Bank, joined the now $723 million Falcon National as market president of the Maple Grove location.
"This merger will provide greater opportunities for our customers and community," said Ken Streeter, owner and chair of the Eagle Community Bank. "We want to thank our customers and community for past business and truly feel they will thrive as customers of Falcon National Bank."
Earlier this year, Falcon National expanded its SBA lending division, with William Johnson was named senior vice president and SBA division manager.  He has over 30 years in banking and has held leadership positions with numerous community, national and regional banks.
Chase Larson was promoted to vice president of SBA lending. Larson has been with Falcon National Bank for two years and served as a business banker.
Brandon Voit was also hired to fill the Foley market president role previously held by Kendra Berger, who shifted her focus to strategic initiatives and leading the mortgage banking division.