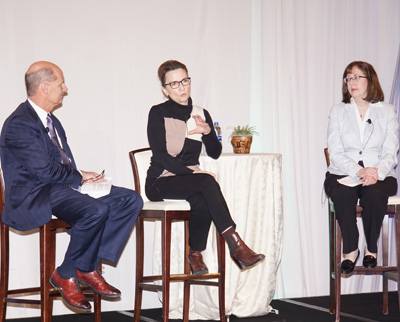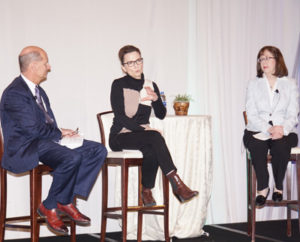 The FDIC is working to reduce regulatory burden for community banks, said Chair Jelena McWilliams, who spoke to bankers and reporters in Milwaukee on Feb. 5. She said she is concerned about industry consolidation. Also, she said rules around brokered deposits should be updated, and that while deposit insurance premium rebates are forthcoming, details and timing remain uncertain.
McWilliams, confirmed the 21st Chair of the FDIC on May 24, 2018, said her staff is looking at every regulation to identify those that can be culled. The FDIC already has "retired" more than half of 600 to 700 financial institutions letters, she said. "Usually when you issue supervisory guidance, you don't revoke the old one, so they just keep being piled on, and for a small bank it's a lot of guidance and letters to go through," McWilliams said. "We have been able to effectively reduce them by more than 50 percent."
McWilliams said: "The bottom line is I think that our regulatory environment should be such that banks can prosper and be able to serve their communities and their customers, and create opportunities for people to get credit. So we are looking at the regulations that are in the way of that. Nobody wants to undermine safety and soundness, but at the same time we need to create an environment where banks can do what they do, which is lend money."
The decline in the number of banks over the last several years is concerning, especially in small towns, McWilliams said. "Usually what happens in small communities, a community bank closes down, then so does the local barber shop and the diner. There is a kind of trickle-down effect on the town, the school and everything else."
The FDIC is considering changes to rules governing brokered deposits; McWilliams said the need for deposits is driving some of the industry consolidation. "We need to take a new look at brokered deposits," she said. "Twenty years ago you couldn't collect deposits on the internet; you couldn't offer checking accounts on the internet."
Some internet deposits are considered "brokered" under current rules and raise supervisory red flags at some banks.
Recently, the Deposit Insurance Fund surpassed the 1.35 percent capitalization level. The law requires the excess be returned to banks. When asked about the rebates, she assured they are coming but said the timing remains to be determined. "It will be soon," she said.   
McWilliams came to Milwaukee at the invitation of the Wisconsin Bankers Association to address its annual Bank Executives Conference.