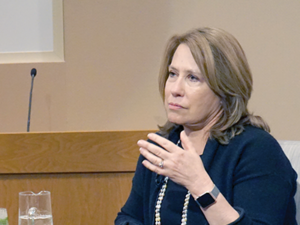 Can regulators reduce the regulatory burden for bankers without hurting industry safety and soundness or weakening consumer protections? Two FDIC chairs — one former, one current — shared comments that addressed that question during recent forums in Minneapolis.
Sheila Bair, the FDIC chair during the financial crisis, warned against a tendency toward counter-cyclicality in bank regulation. She said policy-makers often tighten regulation during a crisis.  "When everything is fine, we get lax. We tend to deregulate at just the wrong time," she said.
Bair, FDIC chair from 2006 to 2011, recalled her agency advocated for tighter mortgage rules in 2006 and 2007 to no avail. Today, she worries about leveraged loans, which she said look a lot like subprime mortgages looked back then. She described a $1.3 trillion leveraged loan marketplace, approximately 50 percent funded by banks. She described these loans as "horribly underwritten," and easy for companies to get. The similarities to the poorly underwritten subprime mortgages of 10 years ago are hard to miss.
Only this time around, when the economy turns south, people will lose their jobs instead of their homes. Bair notes the borrowing companies employ millions of people across the country; when a downturn comes and these companies begin defaulting, many of them will lay people off to survive.
"These loans need to be restructured," she told attendees at the Banking Law Institute annual conference. "What are we going to do when the defaults start coming, because we know they are going to default. What is the game plan? I am hoping people are thinking about this now."
Jelena McWilliams, sworn in as FDIC chair on June 5, 2018, told attendees of the Minnesota Bankers Association annual meeting the agency is working to reduce the regulatory burden. She talked about archiving hundreds of Financial Institution Letters produced over the last three decades, a desire to lower capital standards for community banks, and about helping banks innovate to stay competitive.
"We have put so many protections in place that we have made certain bank products and services prohibitively expensive," she said. "I have talked to bankers who make no money on mortgage services. Bankers tell me we don't make any money on mortgage originations, so now you have six of the top 10 mortgage servicers being non-banks. You have this in small dollar lending as well."
McWilliams, who previously was executive vice president, chief legal counsel and corporate secretary at Fifth Third Bank after working six years for the Senate Banking Committee, said as the 21st FDIC chair she is focused on reducing regulatory burden, and making it easier for banks — particularly community banks — to serve their customers.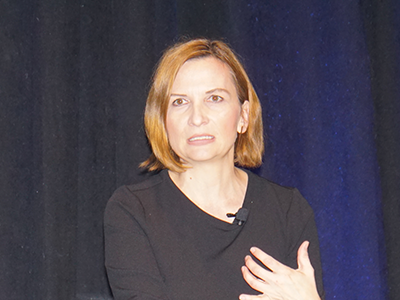 "There are people who think any time you try to tailor regulations you are taking away safety and soundness or consumer protection. That is not true. Quite often we have more rules in place than is necessary," she said.
She provided some examples where the agency is working to reduce the reg burden.
First, the agency is setting up an Office of Innovation, which she said she wants headed by a "disruptor, not a regulator." She believes the office will come up with ways for the FDIC to conduct exams that use technology more efficiently so examiners need to spend less time in the bank.
Second, the FDIC wants the Office of Innovation to be a resource to bankers so they can participate more boldly in partnerships with appropriate fintechs. "The smaller banks can gain the most from innovation," she said. "We are looking for ways to align partners with fintechs."
Third, she said the FDIC is streamlining the de novo process. "Consolidation is going to happen. We need to encourage banks to use innovation to remain stable and survive, and to compete. We also need to think how we can reduce the reg burden on small banks in particular. If we have outdated regs, take them out of circulation. We need to encourage the creation of new banks."
McWilliams is mid-way through a nationwide listening tour, where she is visiting with as many bankers as she can. She told bankers in Minnesota she believes it is important that the FDIC chair come to them so that they are not forced to travel to Washington, D.C., in order to get the ear of the agency.
"I think the community banking model will succeed if you give it a fair shot, take away some of the discrepancies in the system and let them compete. What you do for the communities is so much more than banking," she said.