Dave Jahnke will become chair of the board at First Interstate BancSystem, Billings, Mont., effective May 6 as part of a long-planned leadership transition. Currently vice chair and independent director, Jahnke will replace Jim Scott.
Jahnke was named vice chair of the First Interstate in 2019. He joined the board as an independent director in 2011, following a 35-year career with KPMG, where he was a partner with a focus on global clients in the financial services industry. 
In addition to his work with First Interstate BancSystem, Jahnke is a director and chair of the audit committee for Swiss Re America Holding Corporation and its primary related U.S. operating companies. He is also a director and chair of the audit committee and a member of the compensation committee of Schnitzer Steel Industries, Inc.
"Jim and I have been preparing for this transition for quite some time," Jahnke said. "I am honored to be named the first non-Scott Family member chair of First Interstate BancSystem. I look forward to working with Jim, the rest of the board, and the management team to build on the success First Interstate has enjoyed."
Scott joined the First Interstate board  in 1971 and was named chair in 2016. This transition comes at a time when the third generation of each of the five branches of the Scott Family assumes greater leadership in family interests.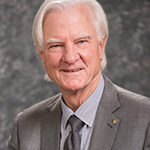 "It has been my privilege to be part of the leadership of this great company for nearly fifty years," Scott said. "I am especially proud of the fact that, throughout the growth and transformation of our company in recent years, we have consistently maintained our focus on being a values-based community bank with a strong commitment to the communities we serve."
The $14.5 billion First Interstate has branches in Idaho, Montana, Oregon, South Dakota, Washington, and Wyoming.