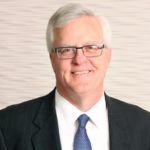 Mark Sanders was named president of First Midwest Bancorp, Chicago. He will continue in his current roles as chief operating officer and director of the company, as well as president, COO and a director of First Midwest Bank.
"Mark's appointment is a natural extension of the important role he has played over the past seven years in helping us deliver strong growth and business performance," said Mike Scudder, chair and CEO of First Midwest. "His strategic insight and exceptional leadership will serve us well as we continue our position as Chicago's premier commercial bank and execute on our vision of being our clients' most trusted financial partner."
Sander's extensive experience and proven track record in the financial services industry spans more than 35 years. He joined First Midwest in June 2011 and has had direct management responsibility for the operating performance of First Midwest Bank.
Prior to joining First Midwest, he was executive vice president, head of commercial banking at Associated Banc-Corp, Green Bay, Wis. Previously, he was a commercial banking executive at Bank of America and in numerous leadership positions in commercial banking as executive vice president at LaSalle Bank, a $110 billion asset subsidiary of ABN AMRO, N.V..
Sander has an MBA from the University of Chicago and a Bachelor of Science degree from the University of Illinois, Urbana-Champaign. He is a member of the Executive Committee of The Banker's Club of Chicago and an active member of the Economic Club of Chicago.