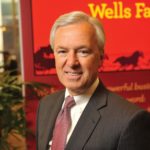 The Office of the Comptroller of the Currency announced charges against five former senior executives of Wells Fargo, N.A. Former CEO John Stumpf can no longer work in the banking industry and must pay an additional $17.5 million fine for his role in the fake accounts scandal in 2016.
The head of the community bank at the $1.7 trillion bank, Carrie Tolstedt, and the community bank group risk officer, Claudia Anderson, were also prohibited from working in the banking industry and must pay a $25 million fine and a $5 million fine, respectively.
"The actions announced by the OCC today reinforce the agency's expectations that management and employees of national banks and federal savings associations provide fair access to financial services, treat customers fairly, and comply with applicable laws and regulations," said Comptroller of the Currency Joseph Otting.
The notice of charges alleged that the executives' job performance contributed to the bank's systemic problems with sales practices misconduct from the early 2000s to 2016. Russ was also alleged to have made "false and misleading statements to the OCC and actively obstructed the OCC's examinations of the bank's sales practices," the statement said.
Wells Fargo ex-employees James Strother, former general counsel, David Julian, former chief auditor, and Paul McLinko, former executive audit director, were all placed on personal cease and desist orders, and must pay $5 million, $2 million and $500,000 respectively.
The OCC also announced on Jan. 21 that Citibank must pay an $18 million fine for violating the Flood Disaster Protection Act. 
The $1.4 trillion bank failed to purchase the required flood insurance on behalf of borrowers with loans secured by buildings and mobile homes located in special flood hazard areas in a timely manner. This happened because the bank's FDPA policies and procedures allowed the bank's third-party service provider to extend the 45-day notification period after the initial borrower notification.