TS Bank is operating out of a remodeled building in Macedonia, Ia., after a project funded through outside grants and internally. 
The new bank facade for the Treynor, Ia.-based bank, completed early this fall, includes a new, historically-accurate color scheme designed by Franks Design Co.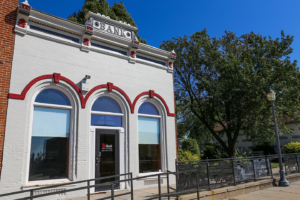 The original Macedonia State Bank opened in 1880 and was in the Dye Store until 1894 when the store was rebuilt with the adjoining bank building. The bank changed ownership over the years until the now-$380 million TS Bank purchased the building in 2000, remodeled the interior, brought back the original look and feel, removed the lowered ceiling and restored arched windows.
The city of Macedonia received the facade rehab project grant in summer 2018. The work on the bank is part of a broader project bringing newly painted storefronts and tuck-point finishes in the coming months. The grant has also helped complete work on the Stempel Bird Museum, Pioneer Trail Museum and The Painted Camel. Work on the Macedonia Historical Preservation Society and the Dye Building is expected to be completed by May 1. 
"Macedonia is very proud of the progress being made on our downtown district. The Main Street revitalization project was funded through several important grants: a State of Iowa CDBG grant, an Iowa West grant, generous funds from Macedonia Hamilton Development and TS Bank. We hope to continue economic development progress in Macedonia. Thank you for the support we've received from all our citizens," said Susan Goos, Macedonia City Council member.