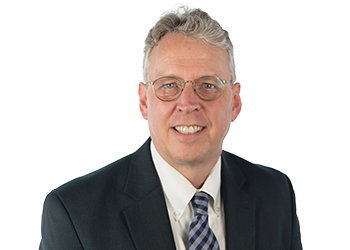 When the Graduate School of Banking at Colorado was formed 70 years ago, the original banking principles drafted by the board of regents were likely sketched in black-and-white on a 10-column pad — financially oriented and predictable.
"We've just continued to expand what it means to be a banker," said Michael Stevens, who replaced the retiring Tim Koch in August as president at the Graduate School of Banking at Colorado. "They went from traditional banking, the numbers, and the principles of lending, to leadership and culture."
On the off-ramp of a global health crisis, the banking industry continues to grapple with old issues and faces new ones: Social justice, climate change and competition from neobanks. For regulators, this means Diversity, Equity and Inclusion policy, climate risk, cybersecurity and true lender considerations. For GSBC students, it means being able to address the issues responsibly through thinking critically.
"It's just a big, complicated world, and we're going to be faced with something next," Stevens said. "Whether it's a financial crisis or a pandemic, you need to know how to think through what you're being faced with."
Stevens has spent the previous two decades at the Conference of State Bank Supervisors, evolving from being the vice president, professional development in 1999, to the past nine years spent as senior executive vice president. As senior vice president of regulatory policy from 2005 to 2011, a time marked by bank failures and compliance and regulatory upheavals, he relayed information on regulatory policy to the nation's community banks. Painful yet formative, the Great Recession taught him how to learn from, think about and act in a crisis.
"It's how you act when it's really important that matters," Stevens said. "Trust your judgement, know you're going to make mistakes, but be willing to recalibrate. … We've got to be able to rely on our past experiences to come up with those responses."
One of the most valuable offerings of an education at GSBC is the connections. "I'm really paying attention to how critical that network is," Stevens said. "It lives and serves the industry going forward because it provides these contacts with people who we trust to help you figure things out."
On the list of issues to navigate is the dynamic between technology and innovation, Stevens said.
"There's a very big portfolio of issues around technology, fintech and data," he said. The world is turning digital, requiring bankers to innovate, and with that comes cybersecurity risk.
"Misery loves company on this one, right?" Stevens said. "You still have to protect your book, and your tech infrastructure … And at the same time, some of that innovation further answers your ability to protect.
"There's a lot for the industry to figure out, but it's what customers are expecting, and where businesses are going."
Bankers and federal agencies are also turning to tough issues like DEI. "For reasons I think that have become quite clear, we're seeing a greater focus on this and attention from the Federal Reserve, the FDIC and other regulators," Stevens said. This affects the way banks serve their markets through the products and services offered, hiring, and regulatory scrutiny. 
In a new series the school is executing this year, called "Hard Questions," DEI and technology are two of the topics addressed, along with climate change risk and the post-pandemic workplace.
Stevens understands that tough topics can be polarizing. Regarding the way the issues need to be addressed and thought about at the banking school, however, Stevens said, "We don't have to debate the politics," he said, but rather, about the issues' potential threat to operations. "It's a risk business, and their responsibility as executives is to manage risk."
What's happening at the local level, Stevens said, "really matters."
"Everything you can do to help [bankers] on the regulatory side — to be safe and sound, solve problems, avoid cyber attacks — you're freeing them up and enabling them to do what they do best." Whether it's for the ag industry, small businesses or homeownership, or "whatever that community needs."
In the next couple of decades, issues will crop up that aren't yet visible. A well-rounded education based on the fundamentals, the issues of the day, a network and critical thinking, Stevens said, should prepare industry professionals to address the challenges. 
In order for a GSBC education and experience to be relevant, bankers are "going to have to be able to apply it through the issues 20 years from now."