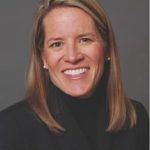 Jennifer K. Hopkins has been elected to serve on the board of Heartland Financial USA, Inc., Dubuque, Iowa.
Hopkins will serve as an independent director until Heartland's annual meeting in 2020, filling a newly created seat. She will also join the board of Citywide Banks, a Heartland subsidiary based in Denver.
"Jennifer's proven record of developing and clarifying strategic direction is undeniable," said Lynn B. Fuller, executive operating chairman of the $11.3 billion Heartland Financial USA. "Jennifer's entrepreneurial leadership has produced record-setting financial results and her commitment to non-profits exemplifies Heartland's mission to serve communities where we work and live."
Hopkins is a managing partner at Crescendo Capital Partners, LLC, a private investment company. She is currently CEO of one of Crescendo's portfolio companies, American Medical. American Medical is one of the largest direct to consumer providers of prescription, long-term oxygen therapy equipment. Prior to forming Crescendo, she was employed at Hewlett Packard and Agilent Technologies. Over her 20-year career, she led functional teams in research and development, marketing and manufacturing, and executive general management roles.
Hopkins is active in several nonprofit organizations, including Craig Hospital Foundation, Busted Halo and the North Dakota State University Development Foundation.  She has a bachelor's degree in industrial engineering from North Dakota State University, Fargo, and a master's degree from Stanford University.
Woodland Bank, Deer River, Minn., announced the appointment of Steve Jurvelin to serve on its board.
Jurvelin is the owner of Jurvelin Hardware Hank in Deer River. He acquired the family-owned business in 1991. He is also a very active member of the Deer River community. Jurvelin has served on the local fire department for 27 years. He is also a long-time member of the Lions Club and Deer River Chamber of Commerce and also serves on the City Planning Commission.
"Steve has roots in Deer River—he's lived there his whole life, knows the people, the businesses and is very involved in the community," said Brian Nicklason, president of the $100 million Woodland Bank. "He has his finger on the pulse of Deer River and brings the business knowledge and community experience we look for in our Directors. We couldn't be more pleased to welcome him."
St. Louis Bank in Town and Country, Mo., named Mike Walsh to its board. Walsh founded Jefferson County Bancshares in 1993 when he bought Eagle Bank and Trust. Over time, the bank grew to $1 billion in assets before being sold to Enterprise Financial Services in 2017.
"We are delighted with the confidence [Walsh] has shown in St. Louis Bank," said Travis Liebig, president and CEO of the $430 million St. Louis Bank. "He brings to us a wealth of expertise and will make an immediate contribution to our efforts to grow throughout the region."